Solomon Islands: Humanitarian aid for tsunami-hit islanders
The UK will provide emergency shelter and access to emergency water and sanitation to those affected in the Solomon Islands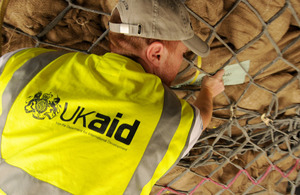 The UK today announced humanitarian support for the people of the Solomon Islands in the aftermath of the magnitude 8.0M earthquake and subsequent 1.5m tsunami wave that struck the islands on 6th February. The UK's support will provide 3,500 people in the Solomon Islands with emergency shelter and access to emergency water and sanitation.
The UK package is part of a wider humanitarian effort including support from Australia and New Zealand. Up to 7,000 people are affected, with 700 families' homes damaged or destroyed, as many as 3,500 people temporarily displaced and with 2,300 people without water.
Minister of State for International Development Alan Duncan said:
This UK support will help to alleviate the suffering of the Solomon Islanders as severe aftershocks hamper relief efforts. The tsunami travelled over half a kilometre inland, damaging traditional houses and leaving thousands of displaced families without access to water or a proper roof over their heads.
FCO Minister Hugo Swire said:
I was saddened at the loss of life and destruction in a Commonwealth partner and Realm. We know from past experience the terrible damage that tsunamis can reap - not just on land and houses but on the lives of those affected. By helping to fund the relief operation, the UK Government, alongside governments from across the world, is standing with the people of the Solomon Islands and attempting to speed up the recovery process for all those involved. As her Majesty The Queen said in her message to the Solomon Islands, our thoughts are with them at this difficult time.
Published 8 February 2013