Press release
Social housing sector's financial stability continues - latest quarterly survey published
The social housing sector remains in a strong financial position with access to sufficient finance, according to the latest quarterly survey published by the Homes and Communities Agency.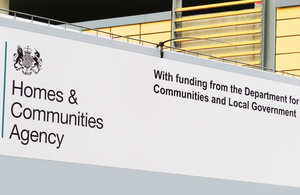 The September survey is the first regulatory data return that providers have submitted since the July Budget. Although it remains important that providers continue to manage risks to their businesses, the survey shows the sector remaining attractive to lenders, with funding available to registered providers to cover their development and operating costs.
The regulator monitors and reports on the financial health of the sector as part of a robust approach to protecting social housing assets and helping ensure providers' contribution to new housing supply.
The 2015/16 Q2 survey (1 July to 30 September 2015) reports that the sector has access to sufficient finance, with £13.8 billion in undrawn facilities and £5.3 billion held in cash, and with 98% of providers (June: 97%) having sufficient debt facilities to last for more than 12 months. Cashflow forecasts show that the sector plans to invest £8.8 billion in housing supply over the next 12 months. This is to be funded by debt, use of cash balances, operating cashflows, fixed asset sales and grant funding.
Figures from the survey demonstrate continued investor confidence in the sector. New facilities arranged in the quarter totalled £1.8 billion (June: £1.2 billion) of which 65% came from banks, capital market funding contributed 30%, and the remaining 5% was from local authority loans. Bank loans are available for tenors of up to 10 years: capital market funding is longer term, with tenors of 25 or more years.
Fiona MacGregor, Director of Regulation at the HCA, said:
This summer has been a period of significant change for registered providers of social housing. Providers continue to review their business plans in the light of recent changes to their operating environment, including rent policy and the extension of Right to Buy. However, the September quarterly survey shows that overall the sector begins from a robust financial position. Providers continue to access private funding and generally have sufficient access to finance to meet their needs over the coming year.

Since the end of September, providers have also now submitted their revised financial forecast returns to the regulator. Over the coming weeks, the HCA will review these forecasts, and will work with providers to seek assurance that landlords remain well placed to deliver their objectives whilst managing the full range of risks to their businesses.
The regulator's quarterly survey is one of the ways in which it gains assurance of the sector's financial strength and the continued viability of individual providers. Its findings are based on the responses of 242 providers that own or manage more than 1,000 homes. Alongside a programme of periodic in depth assessments and regular financial stability checks, the quarterly survey provides regulatory assurance on providers' financial viability.
Other key highlights from the Q2 survey include:
there was a further upturn in affordable home ownership (AHO) sales with 3,292 sales reported in the quarter. The stock of unsold homes decreased to 4,061
there were 2,578 AHO completions in the current quarter
market sales data recorded 1,124 sales. There were 1,094 homes developed for market sale in the quarter
income collection data appears relatively stable and remains within business plan for the majority (92%) of providers
The survey shows registered providers' financial position on 30 September 2015 and includes forecasts up to 30 September 2016. It therefore pre-dates the announcement by the Office of National Statistics that registered providers in England have been reclassified as public corporations.
Published 2 December 2015