Social Action Week: Baroness Newlove joins the breakfast shift at homeless day centre
The Government's champion for Active Safer Communities, Baroness Newlove has joined staff cooking breakfast at London's largest voluntary sector…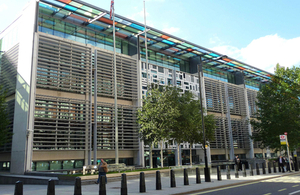 The Government's champion for Active Safer Communities, Baroness Newlove has joined staff cooking breakfast at London's largest voluntary sector day centre for homeless and vulnerable people.
All this week award winning international charity True Volunteer Foundation has been placing teams from the Department to work alongside staff at The Passage Day Centre in Victoria and their projects across London. They have helped with everything from redecorating a centre for people with physical and mental disabilities to supporting those currently homeless with CV writing and interview skills practice.
Creating a thriving 'civic service' by encouraging public servants who want to volunteer their skills and time to work with small community groups and grassroots activists is a key priority for Baroness Newlove.
Speaking at The Passage Day Centre, which offers a range of services to help homeless people transform their lives, Baroness Newlove said:
It's great to help the Passage support homeless people to recover their lives, and be homed and find employment. I want to encourage public sector workers especially civil servants to volunteer in their communities and I am delighted that the Department for Communities and Local Government is doing just that. Addressing homelessness is part of their Departmental remit, and getting out into the community is an invaluable opportunity to get to know the people affected by polices.
All staff across Whitehall are being encouraged to spend at least one day volunteering a year as part of the Government's commitment to turn the Civil Service into the 'Civic Service'. At the Department for Communities and Local Government staff are able to take up to six days paid volunteering leave.
Communities Minister Andrew Stunell said:
Volunteering is of great benefit both for staff sharing their skills and experience and for the local community and voluntary groups they help. 

I've done a bit myself painting the railings on one of my local canal bridges, and I've booked in for some more time next month too.

The Government wants to see the civil service providing 30,000 volunteering days a year and this has been a great week to raise the profile of volunteering and encouraging many more to join in.
Will Cochrane, Operations Manager at True Volunteers said:
There have been a few wins for The Big Society this week. Civic Service is underway, grassroots community organisations benefited from much needed resources and eight True Volunteers donated their time, travel and telephone expenses over recent months to make this week a success and corporate partners helped fund the activities.
Mick Clarke, Chief Executive of The Passage said:
The mission of The Passage is to provide resources which encourage, inspire and challenge homeless people to transform their lives. With a volunteer to staff ratio of over 3:1, volunteers are crucial to The Passage achieving that mission. We have therefore been proud to be part of Social Action Week; in welcoming volunteers from the Department for Communities and Local Government (DCLG) and True Volunteer Foundation (TVF) to support our work, and in encouraging many more to get involved and truly make a difference for some of the most disadvantaged people in our city.
True Volunteers has provided and managed the external volunteering opportunities for staff during the Department's Social Action Week. A team of eight True Volunteers have placed staff in their projects across London. Volunteers at the Foundation are not only not paid for their work but they also do not claim personal expenses.
The Department will be sharing the experiences of its Social Action Week with other Government departments.
Published 10 November 2011