News story
So-called 'legal' highs linked to deaths to be banned in UK.
Two so-called 'legal' highs linked to deaths across Europe are set to be banned, the government announced today.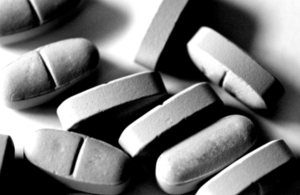 Ministers have accepted advice from the Advisory Council for the Misuse of Drugs (ACMD) to control the new psychoactive substances (NPS) 4,4'-DMAR and MT-45 as Class A substances under the Misuse of Drugs Act 1971.
The stimulant 4,4'-DMAR has been linked to 37 deaths in the UK, with the majority of fatalities in Northern Ireland. The substance, which is also known by the street name Serotoni, has been found in tablet and powder form and can cause agitation, convulsions and hyperthermia.
The synthetic opioid MT-45 has not been detected in the UK to date, but has been detected in other EU countries in powder form – sometimes mixed with other psychoactive substances including synthetic cannabinoids. It has been linked to 18 deaths in Sweden, as well as a number of non-fatal incidents. Some individuals needed hospital treatment after falling into a coma, while others suffered respiratory problems and loss of hearing. The potential harms of the drug are similar to those of morphine.
Ministers have also decided to follow the Council's advice to schedule both substances under Schedule 1 of the Misuse of Drugs Regulations, which means they have no recognised medical, chemical or industrial use.
Crime Prevention Minister Lynne Featherstone said:
We continue to clamp down on the trade in new psychoactive substances or 'legal' highs.

An expert panel commissioned by the Home Office to look at the problem was very clear they present a challenge that cannot be ignored. The Panel acknowledged that our approach to date has 'real strengths' and should be built on, as we are doing, and should not be dismissed.

We are currently looking into the feasibility of a general ban on new psychoactive substances across the whole of the UK, clamping down on the suppliers and head shops rather than the users.
The government has banned more than 350 'legal' highs and created the Forensic Early Warning System to help identify new substances. It also continues to lead international work by keeping new psychoactive substances at the forefront of United Nations and G7 discussions.
Following the publication of an expert review of new psychoactive substances in October, the government is developing proposals for a blanket ban across the whole of the UK.
Published 26 November 2014