Press release
Snapped up at auction – photo album now at risk of leaving UK
A photo album compiled by Julia Margaret Cameron (1815-1879), one of the greatest photographers that Britain has ever produced, has had a temporary export bar placed on it to provide a last chance to raise the £121,250 needed to keep it in the UK.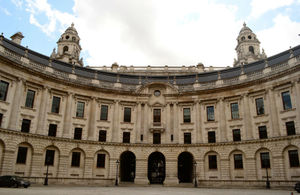 035/13
Culture Minister Ed Vaizey took the decision to defer granting an export licence for the photo album following a recommendation by the Reviewing Committee on the Export of Works of Art and Objects of Cultural Interest (RCEWA), administered by Arts Council England, on the grounds that it was of outstanding significance for the study of 19th century photography, and particularly that of Julia Margaret Cameron.
This album (known as the Signor 1857 album) is the earliest of eight recorded photographic albums assembled by Cameron in the period before she took up photography herself. Almost certainly compiled as a gift for her friend, the artist George Frederic Watts, the album anticipated the photographs she would later make with her own camera, mixing images of the famous with the familial to create a celebration of art, photography, family and friendship.
It contains 35 works by several different photographers, some of whose significance to the development of photography in the 19th century is increasingly being recognised, and is an important example of how photographs were embedded within avant-garde art-making of the day. In addition, it is a pivotal piece of evidence in explaining how Cameron, a middle-aged woman with no previous experience of visual art-making, became one of the most celebrated of photographers and illustrates Cameron's increasing interest in the relationship between the fine arts and photography.
Culture Minister Ed Vaizey said:
I sincerely hope that a UK buyer can be found for the Signor 1857 Album. It still holds many secrets and keeping it in the UK would allow further detailed study in the lead up to the bi-centenary of this incredibly talented photographer's birth.
The decision on the export licence application for the photo album will be deferred for a period ending on 8 July 2013 inclusive. This period may be extended until 8 October 2013 inclusive if a serious intention to raise funds to purchase the photo album is made at the recommended price of £121,250.
For media information contact: Sam Gough, Media Relations Officer, Arts Council England Tel: 020 7973 5189 or 07872 416679 Email: sam.gough@artscouncil.org.uk
Notes to Editors
Organisations or individuals interested in purchasing the photo album should contact RCEWA on 0845 300 6200.

The Reviewing Committee on the Export of Works of Art and Objects of Cultural Interest is an independent body, serviced by Arts Council England, which advises the Secretary of State for Culture, Media and Sport on whether a cultural object, intended for export, is of national importance under specified criteria.

Arts Council England champions, develops and invests in artistic and cultural experiences that enrich people's lives. Between 2010 and 2015, it will invest £1.9 billion of public money from government and an estimated £1.1 billion from the National Lottery to help create these experiences for as many people as possible across the country.
Published 9 May 2013