News story
Smartcards to arrive at Huddersfield Station
Department will invest £153,000 to upgrade ticket gates so passengers can use smartcards to travel on trains.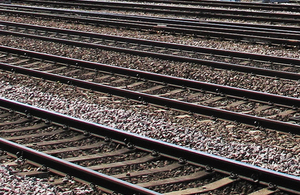 Passengers in Huddersfield will benefit from the ease and convenience of using smartcards to travel on trains after the government announced funding to upgrade ticket gates at the town's railway station.
The Department for Transport will invest £153,000 to fund the technology, enabling passengers to use the West Yorkshire MCard to purchase rail fares when tapping in at the station gates.
Smartcards make it easier and more convenient for passengers to travel, cutting out the need to issue paper tickets and allowing train operators to offer more flexible ticketing options.
Transport Minister Robert Goodwill said:
As part of our long-term economic plan we are investing record amounts to deliver a railway fit for the 21st century. That means harnessing the latest technology to offer the best possible services for passengers. Smartcards are a key part of that, offering greater flexibility and ease of use for passengers. I am delighted we are able to roll out this technology at Huddersfield Station.
Smartcards have proved extremely popular with passengers and the government is keen to see them adopted across the entire network. It is part of a wider push to introduce a more flexible ticketing regime for passengers with the Department forging ahead with a series of trials, including flexible season tickets for part time workers.
The West Yorkshire Combined Authority is currently rolling out its own version of the smartcard known as the MCard. The scheme is second only in size to London's hugely popular Oyster scheme.
West Yorkshire Combined Authority Transport Committee Chair Councillor James Lewis said:
This funding will help to ensure that the almost two-and-a-half million passengers who use Huddersfield Station every year will be able to do so using MCard smartcards to get through the ticket gates.

After Bradford Interchange and Leeds, Huddersfield will become the third major West Yorkshire station to have smart-enabled gates. Smart enabling the gates at Huddersfield station represent another important step in rolling out smartcard ticketing across West Yorkshire.

MCard is the largest operation smartcard system of its kind outside London and there are already around 400,000 'live' smartcards in use across West Yorkshire including national concessionary passes. With Pay-as-You-Go MCards, which are ideal for less-regular bus and train users being introduced next year, this number is going to grow and grow.
It is anticipated that the work to upgrade the ticket gates will be completed by December 2014.
Councillor Peter McBride, Kirklees Cabinet member for Place, said:
This is good news for local rail passengers and will speed up access to and from rail services.
Paul Jackson, Huddersfield Station Manager said:
The automatic gates at Huddersfield have proved very successful both in assisting with customer access to the station and in reducing fraudulent travel.

Customers however have voiced their concerns that gates were not set up to allow the smart tickets issued by WYPTE to be used and we have been working closely with various organisations to enable access.

We are delighted therefore that the Department for Transport has provided the funding to upgrade the gates to take the M-Card. I know regular customers will really appreciate and benefit from this and we all look forward to the gates being fully functional in the near future.
Rail media enquiries
Media enquiries 020 7944 3021
Out of hours media enquiries 020 7944 4292
Switchboard 0300 330 3000
Published 9 July 2014