Press release
Smartcard milestone for London rail commuters
Baroness Kramer launches Southern's new smart travelcard, providing commuters with more choice, security and convenience.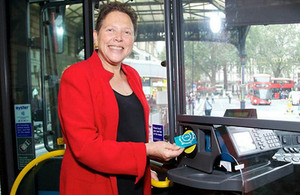 Transport Minister Baroness Kramer visited London's Victoria station today, Wednesday 17 September 2014, to mark an important milestone in the roll-out of smart ticketing across the capital.
From today, passengers on the Southern franchise will be able to use a single smartcard to travel by rail, bus and tube across the capital, after the train operator launched Travelcards on its 'the key' smartcard. It means passengers will have the option to upload their Travelcards to the smartcard, rather than using a paper ticket.
This is the latest phase of plans to roll out smart ticketing across London and the south east. Over the coming months, more train operators across the region will start to offer similar services, in partnership with the government and Transport for London, with around 300 stations being smartcard enabled over the next 2 years.
Baroness Kramer said:
Offering smart ticketing is an important part of our plans to deliver a better experience for passengers, providing greater choice, security and convenience and making it easier to get around. I congratulate Southern on achieving this important milestone.

We are committed to building a stronger economy and a more efficient public transport network that people want to use. That's why more than £38 billion will be invested in the rail network over the next 5 years to bring in new trains and new services, and to make journeys more comfortable and more reliable.
A choice of smartcard tickets can be bought online, removing the need for passengers to queue, and purchases are protected if the card is lost or stolen.
Alex Foulds, Commercial Director at Southern, said:
We are delighted that our vision has now become a reality. It's fantastic news for thousands of our London commuters who can now use their key smartcard for their entire journey to and from work.

This development is another step that paves the way for other train operator's schemes to follow on behind us, by laying a firm foundation for the south east flexible ticketing programme to become a reality.
The government is also exploring options for trialling flexible season tickets, in order to give part-time commuters and flexible workers a better deal.
Rail media enquiries
Press enquiries 020 7944 3021
Out of hours 020 7944 4292
Switchboard 0300 330 3000
Published 17 September 2014