News story
Small businesses speak up on US-EU trade deal
Small businesses from across the UK discussed the Transatlantic Trade and Investment Partnership (TTIP) at an event in the Foreign Office.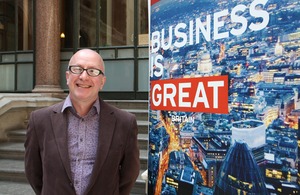 The event was hosted by Cabinet Minister Kenneth Clarke MP. Also speaking were David Caro, Chair of EU and International Affairs, from the Federation of Small Businesses, and Adam Marshall, Director of Policy and External affairs in the British Chamber of Commerce.
The Department for Business, Innovation and Skills has estimated that the benefit of this deal between the US and the EU could be up to £10 billion a year for the UK.
Darren Buttle, Managing Director of furniture manufacturer ABF Europe, based in Wetherby, North Yorkshire, is also a Business Angel. He said:
We have an existing presence in Pennsylvania targeting seventy million people within a 3 ½ hour drive. Of course we're looking to expand, and so any reduction in trade barriers is going to be healthy.
Stephen Kingan, CEO of Nottingham cyber company Nexor, welcomed the recognition of the importance of small businesses to growth:
Cutting regulation and red tape is great for small businesses and will help them to achieve their role in boosting Britain's economy.
Serial entrepreneur Shazia Awan from Cardiff agreed saying:
I want less red tape in every way. The US is a necessary market but it's not easy to crack – the customer base is different, for example – so I welcome anything which helps small businesses.
Peter Dickin, from Birmingham-based CADCAM developer Delcam, thought that getting agreements on patent disputes would be one of the key wins of TTIP. He said:
I've heard it said that, as a foreign company, you've got a better chance of winning a patent dispute in China than in the US. If this situation could be resolved it would be beneficial for companies in both countries, creating a real win-win situation.
Claire McGovern, financial controller of London-based Savile Row tailors Huntsman, added:
Our skill is making suits and 30% of our market is in the US. We need more simplicity and less bureaucracy.
Scott Dunn of Chaucer Logistics, based in Essex, has had offices in the US for seven years. He said:
I look forward to an increase in the flow of produce between the two countries.
Nigel Stokes, co-founder of London bioscience company DeltaDOT, saw one of the key wins as being agreement on electrical standards.
It's basic but important – and would be a success for companies in both Europe and the US". Also in the pharmaceutical sector, Mohammed Alavijeh from Pharmidex said that "removing trade barriers and resolving intellectual property rights would be of huge commercial interest.
Samantha Gemmell, MD of Cool Creative Concepts, spoke of her own business experience:
Our greatest business transformation was winning a Kellogg Scholarship. This allowed us access to the innovative strategies used by the global giants – and we changed the entire way we did business as a result. My challenge goes beyond TTIP. How do we get UK companies match-fit for a free-trade world? We must do everything we can, including harnessing learning, to get a competitive advantage.
Further information
Follow the Foreign Office on twitter @foreignoffice
Follow the Foreign Office on facebook and Google+
Subscribe to the announcements feed or email alerts to get our latest news and announcements
Published 6 June 2013