Small business loans breathe life into Afghanistan economy
Thousands of small business loans are creating jobs for men and women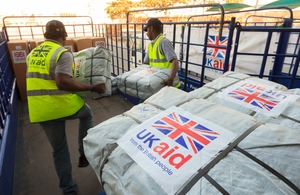 A DFID-funded microfinance programme has helped more than 400,000 men and women build new businesses in Afghanistan.
Video: Microfinance in Kabul
Video about women who have benefited from a DFID-funded microfinance scheme in Kabul, Afghanistan
Women account for 60% of those who have received $500 million in small business loans from the Microfinance Investment and Support Facility for Afghanistan (MISFA).
DFID has provided £40.5 million to MISFA over the past six years in a bid to create jobs and boost an economy starved by 30 years of conflict.
Unemployment in the country is estimated to be around 36% and in recent polls Afghans cited the economy and jobs as their primary concern.
According to an independent study in September 2007, each loan has created an average of 1.5 jobs in the country in areas such as agriculture, candle-making and rug-weaving.
MISFA was set up with the backing of the government of Afghanistan in 2003 to better channel money and technical help from international donors to microfinance projects at local level.
Published 7 December 2009