Sixty awards for sixty years: The Queen's Diamond Jubilee Award celebrates a Great British year of volunteering
Sixty organisations have been recognised with The Queen's Diamond Jubilee Volunteering Awards 2012.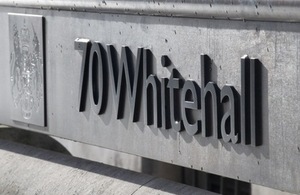 12 December 2012
Sixty organisations which have successfully harnessed the hard work, commitment and generosity of volunteers to change Britain for the better have been recognised with The Queen's Diamond Jubilee Volunteering Award 2012, the Cabinet Office and Buckingham Palace announced today.
The list of recipients reflects the diversity, optimism and excitement of a national year of celebration. The Award recognises well known voluntary groups which have made a contribution throughout Her Majesty's sixty-year reign, alongside newer organisations that engaged volunteers specifically to support the Olympic and Paralympic Games and to build on the sporting legacy of London 2012.
Among the household names honoured are the Royal National Lifeboat Institution, St John's Ambulance, Victim Support, Marie Curie Cancer Care and Girlguiding UK. By training hundreds of thousands of volunteers, they have raised millions of pounds and have offered a huge amount of support to those in need. 
Martyn Lewis CBE, Chairman, Queen's Diamond Jubilee Volunteering Award 2012 Committee, said:
The sixty organisations honoured today with The Queen's Diamond Jubilee Award for Volunteering 2012 have built their success on the dedication and generosity of thousands of extraordinary people, each of whom has devoted their time and energy to the simple aim of making their communities - and their country - a better place.

Day-in, day out volunteers are making a contribution to every aspect of our society - working with the elderly, supporting young people and reaching out to those in need. Volunteering is as fundamental to British life as rain at Wimbledon or the local pub - and what better way to recognise it than with an Award from Her Majesty in her Diamond Jubilee year.
Nick Hurd, Minister for Civil Society, said:
The list of recipients of The Queen's Diamond Jubilee Award for Volunteering 2012 reads like a Who's Who of some of our most important charities and voluntary organisations. It is a testament to the enduring strength and immeasurable contribution of volunteers over the past sixty years.

The 2012 Olympics brought volunteering firmly, and deservedly, into the spotlight. The stories behind these Awards show what people can achieve when they come together and I hope they will inspire more people to come forward to contribute, and gain from, all that volunteering offers.
Derek Twine, Chief Executive of The Scout Association, said: 
We're humbled and delighted to receive The Queen's Diamond Jubilee Volunteering Award 2012 in recognition of the amazing contribution that our volunteers make to The Scout Association.  Put simply, without their efforts over 425,000 Scouts couldn't enjoy the everyday adventures they experience week in and week out.  2012 was another brilliant year of growth for Scouting and we'd love for more young people and volunteers to join the adventure in 2013.
Paul Woodward, Chief Executive at Sue Ryder, said:
The value of our volunteer support is immeasurable to the local communities who access Sue Ryder's health and social care services.  We're so proud to receive this Award on behalf of our volunteers; each and every one of them deserves this accolade.    
Lindsay Brewis, volunteer Vice Chair SNAP Cymru, which aims to advance the education and inclusion of people in Wales, said:
Volunteering involves both giving and getting so it is the best of both possible worlds.  While I freely give my time and expertise, I get the support and warmth that working with dedicated staff and other volunteers gives, as well as training and monitoring to keep my skills up to date.
The Olympics-related groups which are recognised range from LOCOG Games Makers, which recruited 70,000 volunteers who were instantly recognisable through their purple and red uniforms, to the 575-strong Coventry Ambassadors, who welcomed visitors to their city during the Games.
Other recipients are helping to keep the Olympic flame alive. StreetGamesUK delivers sporting activities for young people in some of the UK's most deprived communities while the Dame Kelly Holmes Legacy Trust uses elite athletes with world-class experience to engage and empower disadvantaged young people.
Cllr John Mutton, Leader of Coventry City Council, said:
Volunteers provide a vital service and these ambassadors were keen to give something back to Coventry and to be part of an historic summer in the city. I'm delighted they have received this national Award, which is another fantastic achievement for the city of Coventry and its people in what has been a wonderful 2012.
Emma Cronin, Head of Volunteering at Make-A-Wish Foundation UK, said:
We are absolutely delighted to have won this Award. We can't thank our volunteers enough for their efforts during the Olympic and Paralympic Games but hopefully this Award goes some way in recognising the excellent job that they did - we couldn't grant as many magical wishes as we do without the hard work of our volunteers; they really are an intrinsic and valued part of our charity.
The Queen's Diamond Jubilee Volunteering Award 2012 was announced in February 2012 to commemorate Her Majesty's sixty-year reign by recognising voluntary groups that operate across the UK or in the one of the four home nations.
It is a special, one-off, category of The Queen's Award for Voluntary Service (QAVS), which was established in 2002 as part of the UK honours system to recognise the work of grassroots organisations at a local level. During the past ten years, over 1000 community groups and local charities have received this prestigious honour.
A representative selection of recipients will attend a special reception in Whitehall tonight, while Buckingham Palace will hold a reception next year for recipients of this Award and to recognise ten years of The Queen's Award for Voluntary Service.
Notes to editors
Please contact the Cabinet Office press office on 0207 276 2234 if you would like any of the following:
Interviews with Civil Society Nick Hurd and Award Committee chairman Martyn Lewis;
Quotations from representatives of some of the organisations receiving the Award;
Contact details for spokespersons from organisations receiving the Award; and
Facts and figures about volunteering in 2012.
The full list of recipients is as follows:
National Organisations
Action on Hearing Loss Guide Dogs for the Blind RNIB
Age UK Home-Start UK Royal National Lifeboat Institution
Association of Young People with ME Hope UK Sea Cadets
Black Leadership Initiative Junior Chamber International UK SNAP Cymru
Body and Soul Make a Wish Foundation UK St John Ambulance
British Red Cross - London Marie Curie Cancer Care Sue Ryder
British Youth Council Maritime Volunteer Service Sustrans Volunteer Programme
Calibre Audio Library Meningitis Trust The Scout Association
Chest, Heart and Stroke (Scotland) Methodist Homes The Shannon Trust
Children's Hospice Association Scotland MindWise
Victim Support
Coastguard Rescue Service Missing People Vinspired
Community Money Advice
National Society for the Prevention of Cruelty to Children
Woodland Trust
Contact the Elderly Neighbourhood and Home Watch Network Young Enterprise
Family Lives People's Dispensary for Sick Animals YouthNet
Girlguiding UK Place2Be  
Olympic & Paralympic volunteering projects
Coventry Ambassadors Glasgow Life - Ambassador Programme The Balloons Project
Essex Ambassadors Sports Delivery & London 2012 Legacy Essex County Council Newham's Volunteers The Mayor's Community Champions: Tower Hamlets
Gamesmaker Volunteers - LOCOG Team London Ambassadors Volunteer NOW
Sport & dance organisations
Big Dance 2012 volunteers England Hockey Board Volleyball England
British Cycling The England and Wales Cricket Board  
Dame Kelly Holmes Legacy Trust StreetGames UK  
Published 12 December 2012