Sixteen more projects receive support through the Innovation in Giving Fund
Sixteen cutting edge projects are to receive financial support from the Cabinet Office's Innovation in Giving Fund.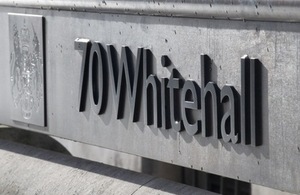 23 October 2012
Sixteen cutting edge projects seeking to challenge and change the UK's approach to charitable giving are to receive financial support from the Cabinet Office's Innovation in Giving Fund, the Cabinet Office and Nesta announced today.
The Fund enables a step-change in the giving and exchanging of time, assets, skills, resources and money. The 16 new projects join 40 other projects that received funding earlier this year.
While each organisation is trialling something distinct and different, supporting easy new ways of giving, maximising use of spaces and enabling better business giving are some of the themes that emerge from this latest round. Each organisation will receive up to £50,000 funding alongside a package of non-financial support, including legal, financial and other advice, mentoring and networking opportunities, and consultancy support.
Nick Hurd, Minister for Civil Society, said:
We launched the Innovation in Giving Fund to unlock the potential that new technologies and other exciting innovations offer the charitable sector. It's therefore fantastic that this fund has supported the growth of such imaginative and compelling ideas and enabled projects to come up with new ways for people to give their time, money, resources and skills to help others.
Helen Goulden, a Director in the Public Services Lab, Nesta said:
Yet again, we have been overwhelmed and inspired by the range and diversity of the ideas that have been put forward to this part of the Innovation in Giving Fund. Whether it's giving a hot meal, a photo, a bit of land, an hour of skilled time or a place for somewhere to sleep, the awardees have shown how with a bit of creative thinking we can really challenge ourselves on what giving in the 21st century means. By supporting these ideas at an early stage we hope to see the projects grow and continue to engage and inspire the next generation of givers.
The Innovation in Giving Fund was launched in May 2011 as part of the government's Giving White Paper. It is run by Nesta on behalf of the Cabinet Office.
Supporting easy and friction-free giving
Chip In proposes to use Oyster card technology to make quick and easy charitable donations, while Panlogic, has designed a mobile giving scheme for the arts and heritage sector, aiming to resolve the issue of £750m worth of Gift Aid which goes unclaimed every year.
JustGiving, already the UK's largest platform for charity fundraising in the UK, lays out new plans to allow charitable or community projects to 'crowdfund' via the site. Meanwhile, Photo Foundation gives the public an alternative way to support their favourite charity, by donating an image to an online photobank, which the charity can use for free or claim a donation when the image is used by a business.
Maximising use of space
Dot Dot Dot Property tackles the problems of vacant housing by identifying people to act as 'property guardians' in exchange for affordable rent while giving back to the local community through voluntary work. And Somewhereto 'unlocks' unused space for young people to make use of free of charge. The project has already freed up 310,000 ft of space nationwide for over 6000 people.
Locality connects private sector property experts with communities championing planning, land or building projects and in need of expert advice. While Growing Together supports the development of community gardens, farms and other green spaces, utilising a range of methods from crowdfunding to community shares inspiring a sense of ownership and empowerment.
Better business giving
The Good People will deliver an operating system upon which numerous pro-bono and skills based volunteering programmes can be run. The web and mobile technology aims to match people who want to use their skills and talents for social good to relevant opportunities within civil society organisations. Young Philanthropy introduces young professionals to philanthropic giving, enabling them to pool their money, time and resource and invest in charitable projects, with backing from experienced philanthropists.
While Give What You're Good At and Reach Volunteering provide new efficient and effective ways for professionals to connect with charities in need of their skills. Women like us will build on their current services to deliver a 'swap shop' - where women with caring responsibilities can swap expertise, skills and build structured connections to build a career or start a business that they can balance with family life.
Digital Me provides a way for parents to contribute their skills and help out in schools; enabling pupils to learn from the parents' workplace knowledge. Casserole helps people share extra portions of home cooked food with others in their area who might not always be able to cook for themselves and Ministry of Stories, a project set up by Nick Hornby, will scale their operations to engage a range of volunteers - from famous authors, to teachers and local residents - to get children engaged and interested in creative writing.
Published 23 October 2012