Six Honduran students receive prestigious Chevening scholarships to pursue Masters Degrees in the United Kingdom
This year six Honduran students were awarded a Chevening Scholarship, which is globally recognized as the UK government's official programme that seeks to enrol exceptional individuals and support the next generation of leaders.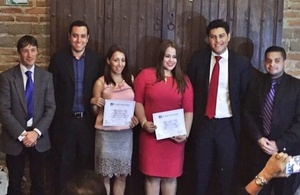 The candidates went through a rigorous selection process and were awarded scholarships to study a Masters degree for a year in the United Kingdom. All of them will receive full scholarships that include travel costs, a monthly stipend, and academic fees.
Chevening Scholarships are funded by the Foreign and Commonwealth Office (FCO) and partner organisations. Chevening Scholars come from 118 countries worldwide, including Honduras.
Each scholarship winner will receive a scholarship of around £20,000. The 2016 recipients are:
Marlon Ochoa (Public Policy at the University of Oxford)
Andrea Argueta (Global Supply Chain Management at City University)
Clarissa Cárcamo (Criminal Justice and Human Rights at the University of Aberdeen)
Patricia Solorzano (Oil and Gas Law at the University of Aberdeen)
Policarpo Melara (International Business & Entrepreneurship at University of Glasgow)
Daniel Montenegro (Food Science at the University of Leeds)
To mark the event, the Chargé d'Affaires for the British Embassy in Honduras, Andrew Tate, said:
I would like to congratulate the six winners on their scholarships. Chevening offers a unique opportunity for future leaders, influencers, and decision-makers from all over the world to develop professionally and academically, network extensively, experience UK culture, and build lasting positive relationships with the UK. Upon their return, I'm sure they'll make outstanding contributions to the future development of Honduras. I wish them the very best of luck.
The process for applying for Chevening Scholarships for the academic year 2017/2018 is now open for Honduras until 8 November 2016. Please visit this web page to get all the details: http://www.chevening.org/honduras.
Published 2 September 2016