World news story
Seis estudiantes hondureños reciben prestigiosa Beca Chevening para cursar estudios de maestría en Reino Unido
Este año seis hondureños fueron galardonados con una Beca Chevening, que mundialmente es reconocida como el programa oficial del gobierno británico que busca matricular a personas excepcionales y apoyar a la siguiente generación de líderes.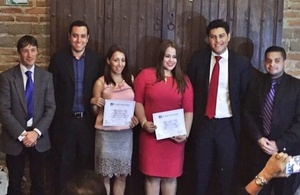 Los candidatos condujeron un proceso de selección riguroso y se les concedieron becas para estudiar su maestría durante un año en el Reino Unido. Todos ellos recibirán las becas completas que incluyen gastos de viaje, una remuneración mensual, y cuotas académicas.
Las Becas Chevening son financiadas por la Oficina de Asuntos Exteriores y de la Mancomunidad Britanica (FCO, por sus siglas en inglés) y organizaciones aliadas. Los becarios Chevening vienen de 118 países alrededor del mundo, incluyendo a Honduras.
Cada galardonado recibirá una beca de alrededor de £20,000. Los beneficiarios del 2016 son:
Marlon Ochoa (Políticas Públicas - University of Oxford)
Andrea Argueta (Administración de Cadenas Globales de Abastecimiento - City University)
Clarissa Cárcamo (Justicia Criminal y Derechos Humanos - University of Aberdeen)
Patricia Solórzano (Derecho en Petróleo y Gas - University of Aberdeen)
Policarpo Melara (Negocios Internacionales y Emprendimiento - University of Glasgow)
Daniel Montenegro (Ciencia de los Alimentos - University of Leeds)
Para marcar este acontecimiento, el Encargado de Negocios de la Embajada Británica para Honduras, el Sr. Andrew Tate, expresó:
Quiero felicitar a los seis ganadores de estas becas. El programa Chevening ofrece una oportunidad única para futuros líderes, personas influyentes y tomadoras de decisiones de todas partes del mundo para desarrollarse profesional y académicamente, crear una red de contactos extensiva, experimentar la cultura británica y construir una larga y positiva relación con el Reino Unido. A su regreso, estoy seguro que ellos harán contribuciones excepcionales al futuro y desarrollo de Honduras. Les deseo la mejor de las suertes.
El proceso para aplicar a las Becas Chevening 2017/2018 está ahora abierto para Honduras hasta el 8 de noviembre de 2016. Por favor visite nuestra página de Internet para obtener más detalles: http://www.chevening.org/honduras.
Published 2 septiembre 2016