Sir William Patey Visits the Police Staff College in Kabul
Ambassador Sir William Patey visited the Police Staff College in Kabul on 9 June, handing over three police transport buses, as well as classroom equipment, to the College. He also spoke to a classroom of district commanders in training.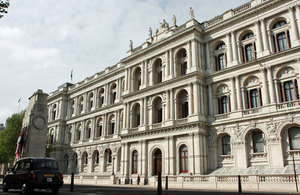 The Staff College is led by the European Union Policing Mission in Afghanistan (EUPOL). It is delivering advanced and leadership training for the Afghan National Police as Afghanistan's security transition gathers pace.
The donated buses will be used to transport students around the city, helping them to gain valuable hands-on experience outside the classroom and to see how their colleagues in Kabul are using the techniques they have learned.
Speaking to Major General Patang, head of the Afghan National Police (ANP) Training and Development Command, William Patey said: "For a secure and stable future, Afghanistan needs a professional police force with good leadership. The Staff College is essential in developing this capability." The Ambassador also made clear the British Government's ongoing commitment to the Staff College through EUPOL.
In a classroom of district commanders attending a five-week leadership course, William Patey said: "As Afghanistan moves towards transition, it is vital that the Afghan National Police are able to provide a community-based approach serving its citizens. As district commanders, you will have a vital role to play in this process."
Major General Patang thanked the UK for its contribution and reiterated the Afghan government's commitment to developing the skilled police force necessary to deliver sustainable transition.
The UK contributes 20 officers to EUPOL in both Kabul and Helmand, including seven staff working at the Staff College. Detective Chief Superintendent Brian Johnston, who leads the Staff College project, stated: "I have had the pleasure of seeing first hand the quality of recruits as they come through our courses. The desire of the students to learn in the classroom, and then put these lessons into practice, has been extremely encouraging."
The Police Staff College provides senior leadership training for ANP officer ranks, higher ranks and general ranks. The five curriculum areas of the College are command and accelerated promotion; leadership development; senior investigation officer, intelligence and crime scnee management; command, control and communications; and human resources, professional standards and police/prosecutor cooperation. When completed, the Staff College will have a capacity to train 300 students at a time.
Sir William Patey Visits the Police Staff College in Kabul
Published 13 June 2011