News story
Sir Terry Farrell to lead independent review of architecture and the built environment
World-renowned architect asked to make recommendations to promote high design standards.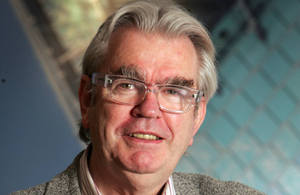 Culture Minister Ed Vaizey has asked world-renowned architect Sir Terry Farrell CBE to make recommendations on promoting high standards of design.
The review is intended to engage architects, designers and other built environment professionals to help DCMS think about our role in achieving high-quality design, allowing us to better influence and shape policy across government.
The review will look at four main areas:
Understanding the Government's role in promoting design quality in architecture and the built environment
The economic benefits of architecture; maximising the UK's growth potential
Cultural heritage and the built environment
Promoting education, outreach, and skills.
Expert panel
Sir Terry Farrell will also be supported by an expert advisory panel of members from across the architecture and design industry who will look at the themes of the review in more detail.
Ed Vaizey said: "Good design builds communities, creates quality of life, and makes places better for people to live, work and play in. I want to make sure we're doing all we can to recognise the importance of architecture and reap the benefits of good design and I'm delighted Sir Terry Farrell has agreed to undertake this independent review.
"I now urge all those within the architecture and built environment industry to make sure they get involved and contribute their views."
Sir Terry Farrell said: "I am delighted to be heading this important review at this time. Many countries have an effective architecture policy and I intend to learn from what has worked elsewhere and also learn from all those involved here in architecture and the built environment. Architecture and the built environment is so important to us culturally, economically, socially and environmentally."
The advisory panel will issue a call for evidence shortly and it is expected Sir Terry Farrell will produce a report by the end of the year.
Further information
Published 25 March 2013