Culture Minister Ed Vaizey launches new review of architecture and the built environment
Culture and Creative Industries Minister Ed Vaizey launched a new independent review of architecture and the built environment today, to be undertaken by the world-renowned architect Sir Terry Farrell.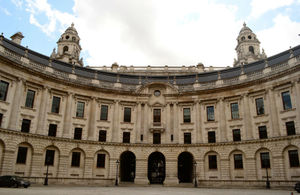 Independent study to be led by Sir Terry Farrell CBE
The review will look at four main areas:
Understanding the Government's role in promoting design quality in architecture and the built environment;
The economic benefits of architecture – maximising the UK's growth potential;
Cultural heritage and the built environment; and
Promoting education, outreach, and skills.
The intention of the review will be to engage the sector in helping the Department for Culture, Media and Sport develop its thinking about the role for Government in the achievement of high quality design to better influence and shape policy across government.
Ed Vaizey said:
Good design builds communities, creates quality of life, and makes places better for people to live, work and play in. I want to make sure we're doing all we can to recognise the importance of architecture and reap the benefits of good design and I'm delighted Sir Terry Farrell has agreed to undertake this independent review. I now urge all those within the architecture and built environment industry to make sure they get involved and contribute their views.
Sir Terry Farrell said:
I am delighted to be heading this important review at this time. Many countries have an effective architecture policy and I intend to learn from what has worked elsewhere and also learn from all those involved here in architecture and the built environment. Architecture and the built environment is so important to us culturally, economically, socially and environmentally.
Sir Terry Farrell will also be supported by an expert advisory panel made up of members from across the architecture and design industry who will look at the themes of the review in more detail.
The advisory panel will issue a call for evidence shortly and it's expected Sir Terry Farrell will produce a report by the end of the year.
Notes to Editors
Initial comments and views on the review can be sent to the following email address: FAR@terryfarrell.co.uk

Considered to be the UK's leading architect-planner, Sir Terry Farrell CBE has been responsible for a stream of major award-winning buildings and masterplans including the Home Office, Greenwich Peninsula, Regent's Place and Newcastle Quayside, together with many notable projects throughout east Asia, including Incheon airport in Seoul, Beijing Station and Guangzhou Station in China (the largest in the world). In Hong Kong, he has designed the Peak Tower, Kowloon Station development and the British Consulate. Throughout his career, Sir Terry has championed architecture and urban planning and helped shape government policy on key built environment issues – as recognition of this, in the 2013 London Planning Awards, he was voted as the individual who has made the greatest contribution to planning and development over the last 10 years.

Confirmed members of the advisory panel are: Peter Bishop, Alison Brooks, Alain de Botton, Hank Dittmar, Jim Eyre, Thomas Heatherwick, Nigel Hugill, Lucy Musgrave, Robert Powell, Sunand Prasad, Victoria Thornton.
For more information about Sir Terry Farrell, and images please contact communications@terryfarrell.co.uk
Press enquiries: 020 7211 2210 Public enquiries: 020 7211 6000 Out of hours telephone pager no: 07699 751153
Published 25 March 2013