Press release
Sir Philip Green to lead government efficiency review
Sir Philip Green, of Arcadia Group, will run a review into government spending.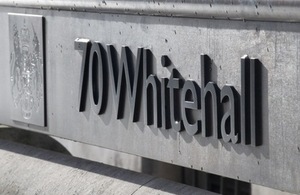 Sir Philip Green, who runs the UK's largest privately family owned clothing retailer Arcadia Group, has been asked by the Prime Minister to lead an external Efficiency Review into government spending.
Sir Philip, who will report to Minister for the Cabinet Office Francis Maude and Chief Secretary to the Treasury Danny Alexander, will be supported by a team of officials from the Cabinet Office and the Treasury. The remit is to scrutinise government spending in the last 3 years to identify inefficiencies and potential savings, and to look at where lessons can be learned for the future. He will then report back before the end of the Spending Review.
The remit of Sir Philip's review will include:
reviewing the progress with the recommendations of the Operational Efficiency Programme (OEP)
assessing whether government leases and contracts entered into since 2007 offer value for money
Mr Maude said:
This government is doing its utmost to ensure we make savings at the centre, not the front line, and to show that we are ready and willing to open up the government's books for real external scrutiny.

There is a pressing need to push forward with both the efficiency and transparency agendas and the best businesses have always understood that to save money you have to keep looking for ways of doing things differently.  We are extremely fortunate to have Sir Philip, with his immense commercial experience and of course his fantastic track record at managing large organisations, on board. Sir Philip has made clear to the government the importance of his business remit which has always been that efficient operating is different from cost cutting and removing jobs.
Mr Alexander said:
The Spending Review is about promoting growth, rebalancing the economy and completely re-evaluating the government's role in providing public services. Sir Philip Green's Efficiency Review will play an important role as we totally re-think how the government spends taxpayers' money.

Tough decisions need to be taken in order to ensure that Britain lives within its means. By being prepared to do things differently, we can ensure that this process will enable us to get more for less, and support our front line services.
Sir Philip Green said:
I have discussed this project fully with my Group CEO Ian Grabiner who is supportive, excited and engaged in aiming to make a difference.

I believe that our shared experience in the procurement of many goods and services, across a broad geographical area of the UK, will enable us to have important benchmarked information which will be extremely seful.

I will give this efficiency review my very best effort knowing how hugely important it is to the recovery of the country. I want to help focus, motivate and energize to achieve these efficiency savings.  It is these actions that will re-start growth in the UK.
Notes to editors
The government has committed to make immediate savings of £6.2 billion this year. For further details on the government's efficiency and reform drive please see www.hm-treasury.gov.uk.
The Efficiency and Reform Board is chaired jointly by the Chief Secretary to the Treasury and the Minister for the Cabinet Office.
For questions on the Operational Efficiency Programme (OEP) please contact the Treasury press office on 020 7270 5238.
Media enquiries
Out of hours 07074 667 000 (please note, this number cannot receive text messages)
Published 13 August 2010