News story
Sir Ian Cheshire publishes his first Government Non-Executive annual report
Sir Ian Cheshire said boards that provide effective advice and challenge to departments will help the government meet efficiency targets.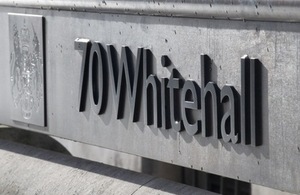 The independent report is Sir Ian Cheshire's first annual report as the Government Lead Non-Executive. It reflects on the progress of the Enhanced Board Model programme and assess the impact of the non-executives over the last year. It finds that the boards are making good progress.
Ministers appoint non-executive directors to bring unique and diverse skills to Departments.
Sir Ian Cheshire makes clear his personal priorities for the year ahead in the role of Lead Non-Executive, outlining them as:
developing further the role and value of boards
maintaining and enhancing the quality and diversity of the non-executive group, ensuring the right match of talent to departmental need
setting and delivering the cross-cutting themes of reforming government
The focus of the cross-cutting themes are set out in the report as:
talent
business plans
arm's length bodies
major projects
risk management
Minister for the Cabinet Office Matthew Hancock said:
Departmental boards bring a range of skills and experience into departments, to challenge and support officials and ministers. They help the Whitehall machine to function more effectively and make sure taxpayers receive the public services they pay for.
Sir Jeremy Heywood, Cabinet Secretary and Head of the Civil Service said:
The government has set demanding targets for efficiency, delivering up to £20 billion in savings by 2019 to 2020. This agenda requires a serious acceleration of transformation in how the civil service delivers to the citizen and supports the government more widely in implementing its reform agenda. The departmental boards bring together a diverse range of inputs and have a crucial role to play to help us deliver the changes required.
Published 3 July 2015