News story
Sir Don Curry comments on the Regulatory Policy Committee's first report
"The Regulatory Policy Committee's findings show how important vigorous, independent scrutiny of new Whitehall rules can be. We have to ensure…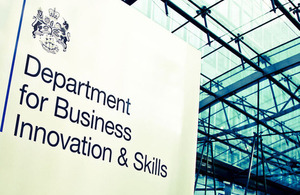 "The Regulatory Policy Committee's findings show how important vigorous, independent scrutiny of new Whitehall rules can be. We have to ensure that if regulation is needed, it is designed and implemented in the best possible way.
"The introduction of the new One-in, One-out rule in September will need robust evidence, and the enhanced role of the Regulatory Policy Committee will be essential in driving forward the culture change in Whitehall and ensuring Government departments meet these requirements.
"I look forward to how these changes will improve the experiences of the business community."
---
Notes to Editors
BIS' online newsroom contains the latest press notices, speeches, as well as video and images for download. It also features an up to date list of BIS press office contacts. See http://www.bis.gov.uk/newsroom for more information.
Notes to Editors
Contact Information
Name BIS Press Office Job Title
Division COI Phone
Fax
Mobile
Email NDS.BIS@coi.gsi.gov.uk
Published 6 August 2010