World news story
Sir David King, Representative for Climate Change, visited Cuba
Sir David King, the Foreign Secretary's Special Representative for Climate Change, visited Cuba from 28 to 30 September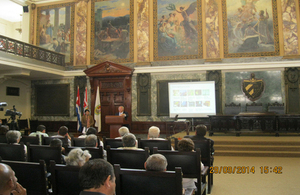 Sir David King, the Foreign Secretary's Special Representative for Climate Change, visited Cuba from 28 to 30 September to promote a progressive global deal to cut carbon emissions.
At the heart of his visit was a speech at the prestigious Aula Magna in the Havana University on "Future Cities: Innovation, Investment and Transformation". To a packed audience of government officials, academics, NGOs, diplomats and students, Sir David outlined both the scale of the climate challenge and the range of cutting-edge tools available to tackle it.
You can download his presentation here:
Future Cities1 (PDF, 1.5MB, 10 pages)
Future Cities2 (PDF, 1.25MB, 10 pages)
Future Cities3 (PDF, 1020KB, 9 pages)
Sir David also met with key government officials, academics and institutions to discuss UNFCCC multilateral negotiations and sustainable development opportunities in Havana. Finally he met with Cuban decision-makers on renewable energy as to promote low-carbon growth and brief on British companies' renewables offer.
Published 3 October 2014