News story
Sir Bernard Hogan-Howe to remain as Commissioner of Metropolitan Police for further year
HM the Queen grants Royal Approval to extension of Commissioner's appointment until September 2017 following recommendations from Home Secretary and Mayor of London.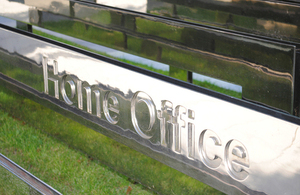 Today the Home Secretary announced that Sir Bernard Hogan-Howe, QPM, has been offered a one-year extension to his contract when it expires in September 2016.
Sir Bernard has led the UK's biggest police force since 2011. The new arrangement will ensure continuity of leadership for policing in London after the mayoral elections in May 2016.
The recommendation was made by the Home Secretary, Theresa May following advice from the Mayor of London. It recognises the vital work Sir Bernard has done in fighting crime and in reforming the Metropolitan Police Service.
Home Secretary, Theresa May said:
Sir Bernard has been at the forefront of the vital and important challenge of policing London at a time of heightened security. His determination and commitment to cutting crime has helped keep London safe.

Extending Sir Bernard's appointment for one year means that the new Mayor of London will be able to take an informed view about any representations they may wish to make about the longer term leadership of the force.

I look forward to continue working with Sir Bernard to reform the Metropolitan Police, cut crime and keep London safe.
The extension of the Commissioner's appointment is until 25 September, 2017. Legislation allows for an initial extension of up to a maximum of three years and unlimited one year extensions thereafter.
Any decision is based on a recommendation from the Home Secretary, informed by a recommendation from the Mayor of London as occupant of the Mayor's Office for Policing and Crime.
Published 11 February 2016