Press release
Sign clutter tackled with new award
New prize for reducing sign clutter launched.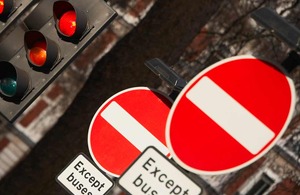 Town halls will be rewarded for taking action against the scourge of unnecessary traffic signs with a new prize launched today by Transport Secretary Patrick McLoughlin.
The award is part of the government's drive to cut the number of signs spoiling our towns, cities and countryside. Many local authorities are making good progress in getting rid of clutter from their roads but the government wants to see more action being taken to make old and confusing signs a thing of the past.
Transport Secretary Patrick McLoughlin said:
Pointless signs blot our landscape, confuse motorists and are expensive to maintain.

This new award is about recognising and showcasing the good work being done by local authorities across the country, and I urge councils who are taking action to tackle this problem to put themselves forward. I want these examples to inspire other councils to improve their streets and public spaces.
The awards ceremony will take place on 13 June at the Chartered Institution of Highways and Transportation Awards. Entries are open to local authorities in England who can demonstrate they have taken some of the following steps to make their local streets free of sign clutter. These include:
improving the environment by providing less clutter, particularly traffic signs
demonstrating savings in sign maintenance costs
conducting a sign audit to establish if signs need replacing
removing signs that are no longer of use
In January, the department provided new guidance to local authorities to continue the sign clutter cull as cost-effectively as possible. The document called 'Reducing sign clutter' provided local authorities with case studies from London, Hampshire and Somerset to help inspire others to get involved along with hints and tips on how to get started in removing pointless signs.
Local authorities who want to be in with the chance of winning an award need to submit their entry online before the 18 April 2013. Judges will shortlist entries before making a final decision on the winner who will also be acknowledged at the Chartered Institution of Highways and Transportation annual lunch in December 2013.
Notes to editors
Apply for the Department for Transport award on sign clutter and view the judging criteria.
The traffic advisory leaflet in reducing sign clutter was issued in January 2013 to help local authorities to get started in removing pointless signs.
Some of the key benefits to cutting street clutter include:
less distraction and confusion for motorists because they will only have to look at signs they need to see
neater streets that are less obstructed by unnecessary signs
lower energy requirements, where the signs require illumination
'Signing the way' was published in October 2011 and set out the conclusions of the traffic signs policy review.
The Department for Transport is currently revising the Traffic Signs Regulations and General Directions with the aim of giving councils more discretion in how and where they place traffic signs.
Press enquiries: 020 7944 3066
Out of hours: 020 7944 4292
Public enquiries: 0300 330 3000
Published 18 March 2013