Press release
Sheffield company must pay £38,000 for illegally spreading waste
A Sheffield company has been prosecuted after spreading 2,023 tonnes of liquid waste in Doncaster and Worksop without permits in place.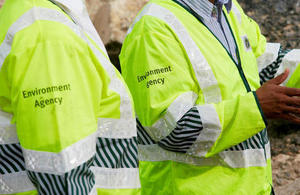 On 23 February 2015 former company director Timothy Rowley and Tank Industrial Maintenance Limited pleaded guilty at Nottingham Crown Court to eight offences that related to illegal land spreading activities at two farms in Doncaster and Worksop between February 2013 and September 2013. In addition, Tank Industrial Maintenance Limited pleaded guilty to a further offence of failing to ensure that land spreading activities were overseen by a technically competent person.
The charges were brought by the Environment Agency under the Environmental Permitting (England & Wales) Regulations 2010.
Tank Industrial Maintenance Limited, based in Killamarsh, Sheffield, and now under new management, was fined a total of £20,000 and ordered to pay prosecution costs of £18,000, totalling £38,000. Timothy Rowley aged 39 from Wales Kiveton, Sheffield, was disqualified as a director for 4 years, fined £1,000 and ordered to pay a contribution towards prosecution costs of £572.00 in view of his limited means.
Prosecuting for the Environment Agency, Counsel Mr Christopher Stables told the Court that Tank Industrial Maintenance Limited, a company specialising in the removal of liquid food waste, spread approximately 2,023 tonnes of liquid waste to fields at Baxter Farm, Doncaster and Clumber Farm, Worksop without a deployment form being agreed by the Environment Agency. The company had an environmental permit that allowed them to spread food waste to land for agricultural benefit. However, it was a condition of the environmental permit that a deployment form was submitted and agreed by the Environment Agency before any land spreading activities took place.
In respect of Baxter Farm, land spreading activities occurred in February 2013 after a deployment form had expired in January 2013. In respect of Clumber Farm, Worksop, land spreading occurred between July 2013 and September 2013 before a deployment form had been considered and processed by the Environment Agency. That deployment application was later rejected by the Environment Agency.
At all times, Timothy Rowley was in charge of land spreading operations in his capacity as director. In order to maintain the company's contracts with the waste producers, he had taken a commercial decision to spread food waste to land as the company had collected too much liquid waste from the producers. Due to a combination of inadequate storage capacity and inclement weather conditions, the company found itself with excessive liquid waste and nowhere for it to go. In these circumstances, the company took the commercial decision to spread the waste to land illegally despite having no agreed deployment application in place. The defendants put profit ahead of compliance with their legal responsibilities.
The court heard that prior to these offences, the Environment Agency served a warning letter on Tank Industrial Maintenance Limited for spreading without a deployment being agreed in December 2012. Despite a warning from the Environment Agency, the company continued to spread waste to land and, in respect of Clumber Farm, spread on four separate occasions. During the land spreading operations, there was no technically competent person overseeing the operations, a requirement under the Environmental Permitting (England & Wales) Regulations 2010.
In mitigation, the Court was told that in respect of Baxter Farm, the defendants did not realise that the deployment had expired and, in respect of Clumber Farm, had to spread the waste because the Environment Agency was, in the view of the company, taking too long to process the deployment application. The environmental impact caused as result of the offences was limited and localised. Timothy Rowley had resigned as a director since the incidents occurred.
In passing sentence, His Honour Judge Hamilton stated that the defendants should not have acted in the way they did and that they spread waste to land in order to save contracts with food processing companies. The sentence imposed on the company included an element designed to remove from the company any profit made from this illegal activity.
After the sentencing by the Court, Environment Management Team Leader Richard Moore said:
This company was given a warning and still didn't comply. Our rules are in place for a good reason and to ensure that any waste that is spread is done correctly and managed in a way that protects the environment. We will not hesitate to take enforcement action in future for those who breach their permits and refuse to co-operate.

I hope this case sends out a message to other land spreading operators and farmers who receive waste, that we take land spreading offences very seriously. It should also highlight to operators who rely on spreading waste to land the importance of having contingency plans in place to allow them to cope with extreme weather and other disruptions to their operations.

And I would urge farmers who receive waste to find out what is going on on their land. Wastes can be beneficial but they must be spread correctly and in accordance with the regulations.
Further guidance for farmers is available at http://www.nfuonline.com/land-spreading_v3/.
Published 5 March 2015