News story
Shaping research themes under the European Common Security and Defence Policy
The European Commission is proposing a Preparatory Action for Common Security and Defence Policy (CSDP) related research in 2017-2019.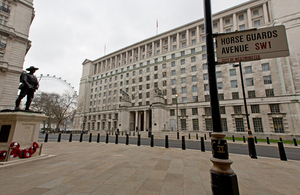 Endorsed by the European Council in December 2013, the Preparatory Action is a response to a need to retain defence scientific expertise and technologies in European Union Member States, and to maintain and improve long term competitiveness in the European Defence Industry. It will run for three years, from 2017-2019, with a view to full scale funding if successful. The Commission has outlined its preliminary proposals on implementation, including on Governance, financing, intellectual property rights, and participation. It has asked Member States for their views on what research topics might be suitable for the Preparatory Action.
In the UK, the Ministry of Defence (MOD) plans to engage with industry to shape the research topics for the projects that may be undertaken and funded. MOD will be hosting a government-industry workshop on 1 July 2015 between 09:30-14:00 in MOD Main Building, London. The purpose of this half-day workshop is to ensure UK industry is well-sighted on the details of the European Commission's proposals for CSDP-related research, and that UK Government gets feedback from industry, both in general terms, and on the detail that can inform UK MOD's dealings with the Commission. More generally, it's hoped UK Government and industry can work together on this initiative into the future.
MOD has undertaken some preliminary analysis and the following topics are presented as options to stimulate discussion during the workshop:
Battlespace cyber and information systems
Medical support
Counter-improvised explosive devices, counter-chemical biological radiological nuclear explosives capabilities, explosive ordnance disposal and improvised explosive device activities
Naval surveillance
Energy
Space-based information services
Underpinning and enabling CSDP actions
Information and cognitive operations
Once registered, attendees will be sent further information to consider around these topics.
Published 1 June 2015
Last updated 17 June 2015
+ show all updates
Further information is provided around topics for discussion during the workshop.
First published.