World news story
Shanghai Theatre Academy opens doors to UK researchers
UK's Arts and Humanities Research Council has signed a Memorandum of Understanding with the Shanghai Theatre Academy in China.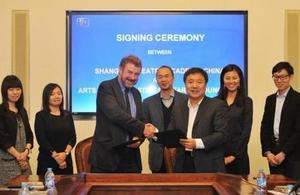 The agreement was signed in Shanghai on 12 November by Professor Rick Rylance, CEO of the Arts and Humanities Research Council (AHRC), and Professor Han Sheng, President of the Shanghai Theatre Academy (STA). Under this Memorandum of Understanding (MOU), the STA will join the AHRC's International Placement Scheme (IPS) with immediate effect. The IPS provides funded fellowships at some of the world's leading research institutions for UK early career researchers, doctoral-level research assistants and AHRC-funded doctoral students. Up to four fellowships will be available at STA from 2015. It will also allow the AHRC and STA to pursue further options for collaboration in the future.
The Shanghai Theatre Academy is a comprehensive university of performing arts. Co-sponsored by the Ministry of Culture of China and the Shanghai Municipal People's Government, STA is one of the best higher education art institutions in China. It has grown from a single discipline school into an outstanding comprehensive university of performing and digital arts, Fine Arts, and visual cultures. It has a particular research strength in Chinese Theatre Studies. On the campus there are two professional theatres for educational practice and formal performance.
Research Councils UK (RCUK) China has been working closely with AHRC and STA to enable this partnership, and to strengthen strategic collaboration between the UK and Chinese arts and humanities.
Professor Rylance said:
This is a great opportunity for UK researchers to undertake research in China at a formative point of their careers. This is our first extension of the International Placement Scheme to China. But it is also the first time we have engaged with disciplines in the fields of digital and performance and we look forward to the outcomes with eager anticipation – and of course to working with our excellent colleagues at the Shanghai Theatre Academy. I'm sure it will be a most fruitful partnership.
President of the Shanghai Theatre Academy, Professor Han Sheng, said:
I was extremely pleased that we have signed the MOU with AHRC. China and the UK both hold a significant place in world culture. The signing of this MoU is a big step forward for our future collaboration in theatre studies and the creative economy. I sincerely hope we will develop a long-term relationship with AHRC.
Grace Lang, Director of RCUK China, said:
Shanghai Theatre Academy is, with the Central Academy of Drama in Beijing, Asia's premier academy with a worldwide reputation for both traditional performing skills and cutting-edge digital work which mixes performance and digital scenarios. They conduct research into both Chinese traditions of theatre and theatre worldwide. They founded a centre for Shakespeare which has expanded to cover world theatre. They also founded China's first institute for research into the creative economy. It is an exciting, lively, warm and receptive institute and we are delighted that UK researchers will have the opportunity to access its expertise, networks and resources.
The 2015 IPS competition is now open. The application deadline is 15 January 2015.
For further information, please contact: Alex Pryce, AHRC: 01793 41 6025, a.pryce@ahrc.ac.uk
Published 1 December 2014