Shanghai Expo hailed as success for the UK
Over 7 million people visited the UK Pavilion at the Shanghai World Expo, which finished this weekend.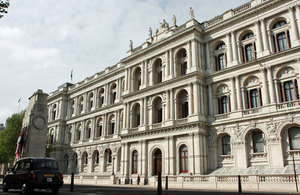 The Shanghai Expo finished with a bang for the UK this weekend with two top accolades marking the end of a tremendous six months for the UK in Shanghai. The Pavilion won the Gold Medal for design in the category for the largest pavilions. This was the top prize in the Expo and covers everything from architecture and construction to communications. On Sunday morning Premier Wen visited our pavilion - a final honour for the UK site which has seen world leaders and celebrities flock to admire it.
Shanghai Expo was the biggest ever held, and ran from 30 April to 31 October 2010. Chinese investment on infrastructure doubled that for the Beijing Olympics and over 180 countries and 50 international organisations participated.
Our participation in Shanghai Expo has helped advance the UK's objectives across the board. John McManus, Director of the Expo Project for the FCO, said:
"Shanghai Expo has been a huge success for China and the UK. Our award-winning pavilion was at the centre of an extensive programme of business and cultural events which has advanced our wide-ranging objectives in China, from trade and investment to education and cooperation on climate-change.
"We are now focussed on making the most of the legacy - from following up the increase in business leads, to an imaginative project where we will distribute of some of the Pavilion's seed rods to Chinese schools."
The UK Pavilion was nicknamed PuGongYing (dandelion) by the Chinese public, and received 45,000 visitors per day. It won the prestigious RIBA Lubetkin Award for international architecture for its unusual and innovative design by Thomas Heatherwick.
Martin Davidson, Chief Executive of the British Council said:
"The UK Pavilion and programme of events at Shanghai Expo were hugely ambitious but have been a tremendous success. The cultural and educational links that have flowed from the Expo will provide a solid foundation for future trade and co-operation."
The website and digital campaigns for the UK at Expo reached a substantial number of people, with over 230m page views and over 9.5m unique visitors to social media platforms to date. In an online sample of Chinese people questioned about whether their perceptions of the UK have been changed by the online campaigns, 82% stated that it had, and 99% of them stated it had been a positive change. 92% of those questions said that they had learned new things about the UK.
Published 1 November 2010