World news story
Shanghai Creativity is GREAT: 2 Nights at the West End
From:

Part of:

Published:

27 November 2014
This was published under the 2010 to 2015 Conservative and Liberal Democrat coalition government
In preparation for the GREAT Festival of Creativity which will be held in Shanghai 2 - 4 March 2015, the Consulate General held warm-up events in Hangzhou and Nanjing on 25 and 26 November.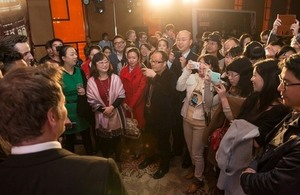 Special guests from across Government, business and culture were able to get a taste of British Creativity by being invited to experience a West End Musical performance.
Across the two cities, Deputy Consul General Matthew Forbes welcomed over 500 guests. In his opening remarks Matthew said:
As Chinese businesses and consumers increasingly shift focus to the service and creative industries, the UK is best placed to be the no.1 creative partner for China
This cultural exchange between China's dynamic business community and the British musical act is the perfect way to signpost what's to come in March 2015
The GREAT Festival of Creativity will be held in Shanghai, China. This grand event seeks to welcome over 2,500 by-invitation-only guests from enterprising and innovative companies. Through keynote talks, seminars and workshops, an interactive showcase, performances and receptions, the GREAT Festival will help promote the best of the UK's world leading creativity and inspire creative discussions that will shape the world we live in.
At the "Creativity is GREAT: A Night at the West End" reception, guests from Hangzhou and Nanjing were able to view a GREAT Festival of Creativity video featuring the Prime Minister. Guests were exposed to a visual and aural storm with a glimpse into the marvelous world of the West End musical theatre. The West End Men performance included 5 elaborate musical pieces with endless imagination by integrating modernity and tradition into the presentation.
Mark Logan, Head of Communications in Shanghai also noted:
We reached out to over 200 new companies in East China through holding business briefing sessions early in the day.
The UK seeks to double the value of bilateral trade with China to $100 billion and increase exports to $30 billion by 2015, through this supporting the goal of £1 trillion in global exports by 2020.
Document information
Published: 27 November 2014