Shaking up the 'computer says no' town hall culture
Local Government Minister Grant Shapps and Decentralisation Minister Greg Clark today called on a new generation of councillors to shake up …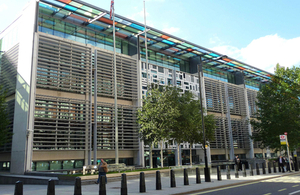 Local Government Minister Grant Shapps and Decentralisation Minister Greg Clark today called on a new generation of councillors to shake up their town halls in the interests of the people they serve and help banish the 'computer says no' culture that exists in some councils.
Government is slashing red tape and putting councillors and communities in control of their local areas. But the Ministers argued they want to go further and faster which is why they today met a group of current and former young and high flying councillors to hear their new and fresh perspective on their role in local government, and how they have shaken things up in their boroughs and made a difference in their community.
The Ministers argued that for too long, central Government's iron grip on councils and a risk-averse culture among some Town Hall officials has thwarted the ambitions of community champions for far too long and put the brakes on plans that could have made a real difference to people's quality of life.
The group included:
Cllr James Cottis (Con, Rochford District Council) - along with two other councillors from neighbouring boroughs, he has set up a task force specifically assigned to support young people wanting to stand for election, and helping them find their feet when they get into office; and
Cllr Florence Nosegbe, Cabinet Member for Culture, Sport and 2012 Olympic Games (Labour, Lambeth) - was a leading force behind Lambeth Youth Council, where young people are able to discuss a range of issues including teenage pregnancy, caring for elderly relatives and homelessness. Cllr Nosegbe is now responsible for overseeing Libraries, Parks and Open spaces and Olympics.
They have a proven track record of shaking up their council and getting things done for the people they serve. The Ministers asked them what more Government can do to give them the flexibility they need to get on with the jobs they were elected to do.
Ideas included:
removing the barriers to younger people becoming councillors, such as help with childcare, and looking again at the times at which council meetings are held
encouraging greater transparency, for example by filming council meetings and making this online
sharing data among local organisations including councils, the police and health authorities to improve local services.
Mr Shapps wants to see more talented people join this army of community champions and, along with Decentralisation Minister Greg Clark, pledged to make it easier for this new generation by tearing up even more red tape and giving them more powers that will place them centre stage in their communities with more clout than ever before to get things done on a whole range of issues.
Grant Shapps said:
We have a long tradition of community action in this country. But for far too long the iron grip of Government has thwarted the efforts of committed people wanting to make a difference in their local area.

This Government has acted quickly to tear up pointless red tape and put councillors in control in their communities with more clout than ever before to get things done.

But I am determined we go further and faster. That's why I am meeting with local councillors with a proven track record of shaking up the status quo to deliver for their local community. I will be asking them what more needs to be done and what further barriers need busting.

These councillors will have impressive stories about how they beat the odds to get an important project off the ground or overhaul a key local service. I hope they can inspire a new generation of community champions to join their ranks. But I also want it to be easier for them. That's why this Government will not let up in its drive to decentralise power and remove stuffy regulations which often hold back would be community champions.
Decentralisation Minister Greg Clark said:
The best ideas come from local people in their local communities. I am determined that Government rules and regulations are there to help, not hinder, as they turn their plans to improve their neighbourhoods into a reality.

That's why I wanted to hear today how a new generation of councillors are moving away from the old ways of doing things to really change things for the better for their local residents. I look forward to seeing how their influences will shake up their Town Halls further in future.

In particular, I will carefully consider their ideas for how we can break down barriers and make it easier for them to shape the future of their communities. And I would urge any council, community organisation or resident to come forward and submit their ideas through our Barrier Busting website.
Notes for editors
The Government's Barrier Busting website was launched on 15 December 2010. Details can be found at: www.communities.gov.uk/news/newsroom/1799233.

Government has already:
abolished Comprehensive Area Assessments, Local Area Agreements and the National Indicator Set meaning Government has relinquished control over nearly 5,000 targets

taken more than £2bn out of the ringfence meaning it is up to councils, in consultation with residents, to decide how to spend the money

worked to abolish top down targets for building new homes and through the New Homes Bonus introduced a powerful new incentive to give the green light to development

abolished strategic housing inspections saving £1.5m of public money.
The Localism Bill, currently before Parliament, will devolve unprecedented power from Whitehall to councils and local communities.
Measures include:
Introducing a new 'General Power of Competence' which means as long as it is legal councils will be free to act rather than checking with Whitehall first.
Scrapping the flawed predetermination rules which have prevented councillors from campaigning on local issues and then voting on the matter. By tearing up these outdated rules that have restricted councillors from championing local issues Government is freeing councillors to get on with the job of representing their communities.
Abolishing the discredited Standards Board regime which has fuelled petty and malicious complaints against councillors, while putting in a simple but transparent regime on declaring financial interests.
Government is giving councillors more control over how people's cash is spent - local people will decide how to spend money through Community Budgets.
Allowing councils, should they wish, to return to the Committee system of local government, which means all councillors have direct involvement in decision-making, rather than it being restricted to a small 'Cabinet'.
4. Attendees at the roundtable were:
Cllr Jonathan Ash-Edwards (Con), Mid-Sussex District Council
Cllr James Bird (Con), Birmingham City Council
Cllr James Cottis (Con), Rochford District Council
Cllr Rock Feilding-Mellen (Con), London Borough of Kensington and Chelsea
Cllr Mike Bell (Lib Dem), North Somerset District Council
Cllr Joe Harris (Lib Dem), Cotswold District Council
Cllr Florence Nosegbe (Lab), London Borough of Lambeth
Cllr Ed Turner (Lab), Oxford City Council
Cllr Jason Kitcat (Green), Brighton and Hove Council
Cllr Nick Clarke (Con), Cambridgeshire County Council
Cllr James Jamieson (Con), Central Bedfordshire Council
Jessica Crowe, Centre for Public Scrutiny
Cllr Jim McMahon (Lab) Oldham Metropolitan Borough Council
Cllr Daisy Benson (Lib Dem), Reading Borough Council
Councilman Edward Lord (Lib Dem), Corporation of London
Cllr Sarah Richardson (Con), London Borough of Westminster
Twitter
Keep up to date with the Department by following us on Twitter (external link).
Media enquiries
Visit our newsroom contacts page for media enquiry contact details.
Published 21 June 2011