World news story
Shakespeare Lives in Italy
The British Embassy in Rome joins the global celebrations for the genius William Shakespeare promoting a series of activities in Italy.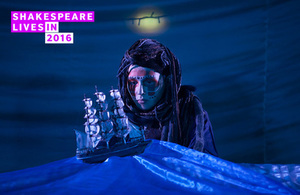 Shakespeare Lives in Italy is part of the global Shakespeare Lives campaign: the result of some extraordinary partnerships that the Italy Network - British Embassy Rome, British Council Italy, Visit Britain and UK Trade & Investment - is proud to have established with state broadcaster RAI (RAI 5, RAI Storia, RAI Scuola, RaiNews24, RAI Radio2), National Association of Italian Municipalities (ANCI), leading publisher laFeltrinelli, Bologna Children's Bookfair and the Globe Theatre in Rome.
Shakespeare Lives in Italy will allow the Italian public to join in the 2016 global celebrations to commemorate William Shakespeare on the 400th anniversary of his death. Italy acts as a backdrop to many of the playwright's most famous works: 11 locations in 12 plays, including The Merchant of Venice, Romeo and Juliet, Othello and Julius Caesar.
The Italian campaign consists of special national TV and radio programming, flash mobs, themed events and public screenings, photo exhibitions, concerts, conferences, contests and business opportunities.
An inaugural press conference, held on 23 March at the Residence of the British Ambassador in Rome Villa Wolkonksy, included speeches by Ambassador Christopher Prentice, Director of the British Council in Italy Paul Sellers and President of RAI Monica Maggioni. The event also saw contributions from popular RAI Radio 2 presenters as well as from iconic Italian actor Gigi Proietti, artistic director of the Globe Theatre in Rome. The Shakespeare Lives in Italy celebrations were inaugurated on 27 January in Milan at the annual UK Italy Business Awards where Mr Proietti was awarded the British Intercultural Award for his efforts in promoting British culture in Italy.
The press conference ended with a short performance from Measure for Measure by two talented students from the first year of the National Academy of Dramatic Art Silvio d'Amico.
For the complete list of events and activities please refer to the British Council in Italy dedicated website as well as to all our partners' web pages.
Published 30 March 2016