Services commemorate Falklands War anniversary
Services are being held to mark the 30th anniversary of the start of the Falklands War.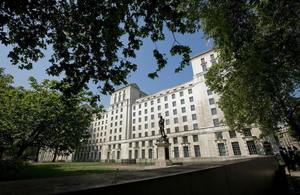 A total of 255 British and about 650 Argentine troops died after the UK sent a task force to the islands to combat the Argentine invasion on 2 April 1982, and Prime Minister David Cameron has suggested that the day is used to remember both the Argentine and British dead.
Mr Cameron said:
Today is a day for commemoration and reflection: a day to remember all those who lost their lives in the conflict - the members of our Armed Forces, as well as the Argentinian personnel who died.
Today, we salute the heroism of the Task Force which set sail to free the islands.
We are rightly proud of the role Britain played in righting a profound wrong. And the people of the Falkland Islands can be justly proud of the prosperous and secure future they have built for their islands since 1982.
Veterans of the war have paid their respects at Britain's National Memorial Arboretum in Staffordshire. A single candle was lit in Arboretum's Millennium Chapel as part of the ceremony and will be left alight for the 74 days of the conflict.
Initiated by the South Atlantic Medal Association (SAMA 82), a memorial to the 255 UK servicemen who were killed during the conflict will be unveiled at the Arboretum on 20 May, in front of more than 600 veterans.
Published 2 April 2012