Serious case review panel established
Education Secretary Michael Gove today established a new independent panel to help ensure that lessons are learned when a child dies or is seriously harmed and there are signs of abuse or neglect.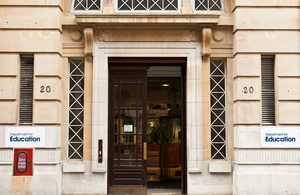 Independent panel members Peter Wanless, Nicholas Dann, Elizabeth Clarke and Jenni Russell will advise and challenge local safeguarding children boards (LSCBs) to initiate and publish high-quality serious case reviews (SCRs) in order that, nationally, lessons can be learned to drive up the quality of child protection services and avoid mistakes being repeated.
Announcing the panel members, Education Secretary Michael Gove said:
We must ensure that in the most tragic cases the right lessons are learned so the same mistakes do not happen time and time again.

The independent SCR panel members are experts in their field and will bring much needed independent, rigorous scrutiny to the system - advising, supporting and challenging LSCBs to do better at completing and publishing SCRs.

It is only by identifying where things do not work that we can help professionals and managers across the country to improve frontline practice, and ensure that the most tragic cases we have seen over the years are never repeated.
The government's statutory guidance on child protection, 'Working together to safeguard children', was revised in March 2013. The guidance makes clear that LSCBs should have regard to the panel's advice when making decisions about SCRs. The independent panel will:
bring rigorous independent scrutiny to the system
help LSCBs apply the criteria for initiating SCRs when a child dies or is seriously harmed and there are signs of abuse and neglect
advise - and where appropriate challenge - LSCBs when they decide not to initiate a SCR or intend not to publish a report
Today's announcement reaffirms the government's commitment to overhaul the system to protect the most vulnerable children in our society, moving the focus from processes and onto the needs of the child.
Since Professor Eileen Munro's review of child protection which completed in 2011 we have:
set out, in one place, the legal requirements that health services, social workers, police, schools and other organisations that work with children must follow
strengthened the Ofsted inspection framework
taken steps to improve the skills and experience of social workers, including the launch of the Step-Up to Social Work and Frontline accelerated development schemes and Sir Martin Narey's ongoing review of education and training
established the new Office of the Chief Social Worker to champion best practice and lead the profession to improve
The SCR panel will be operational from 1 July 2013.
Notes to editors
Peter Wanless became Chief Executive of the NSPCC on 3 June. He joins NSPCC from the Big Lottery Fund where he was Chief Executive for 5 years, responsible for distributing £750 million a year across the UK to projects and programmes designed to benefit communities and people most in need. Peter was previously a director at the Department for Education, specialising in schools' reform.
Nicholas Dann is Head of International Development at the Air Accidents Investigation Branch (AAIB), the government body charged with the investigation of accidents and serious incidents to aircraft. He has over 10 years' experience as a senior inspector of air accidents during which time he has investigated a wide range of accidents, both in the UK and overseas.
Elizabeth Clarke is a practising barrister who has specialised in family law for over 20 years, having been called to the Bar in October 1991.
Jenni Russell is a columnist for the Sunday Times, the Evening Standard and the Guardian. She worked as a broadcaster for many years, at Channel 4 News and at the BBC, where she was the editor of The World Tonight on Radio 4. She won the Orwell Prize for political journalism in 2011.
This link will take you to the government's Working Together statutory guidance.
Local safeguarding children boards (LSCBs) - are the key statutory vehicle for co-ordinating the effectiveness of child safeguarding arrangements in each local authority area, at the same time as ensuring these arrangements are effective. LSCBs are made up of senior representatives of key agencies and organisations who have a responsibility for keeping children safe. This includes local authority children's services, the police, health agencies, education, the probation service, housing, the voluntary sector and more.
Serious case reviews (SCRs) are undertaken by LSCBs when abuse or neglect is known or suspected and a child dies, or where a child is seriously harmed and there is cause for concern as to how agencies have worked together. The purpose of a SCR is for agencies and individuals to learn lessons to improve the way in which they work to safeguard and promote the welfare of children.
The panel cannot take enforcement action. Its role will be an advisory one. However, we expect LSCBs to have due regard to its advice.
These are public appointments. The panel will become operational on 1 July 2013 and LSCBs will be informed before then how to communicate with the panel.
DfE enquiries
Central newsdesk - for journalists 020 7783 8300
General enquiries - for members of the public 0370 000 2288
Published 6 June 2013