September 11th Remembrance
The British Embassy in Washington commemorates the citizens from over 90 countries who perished in the 9/11 attacks.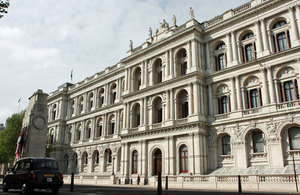 Sunday marks the tenth anniversary of the September 11th attacks. On this day the British Embassy commemorates the citizens from over 90 countries who perished in the 9/11 attacks which killed nearly 3,000 people, including over 60 UK victims. We also remember the victims of the many other acts of terrorism around the world.
The Embassy commends those, particularly our frontline emergency workers, who continue to work against terrorism and risk their lives to protect ours. We also recognise the immense contribution made by our armed forces who have given up their lives in the fight against terrorism.
While we have shared in the pain of the attacks, we also watch with admiration the US's determined process of recovery and stand with our partners against terrorism around the world. Together, while we remember our victims and remain vigilant, we will move forward and face the future with a sense of promise, renewal and optimism.
To mark the anniversary, the families of the UK victims of the 9/11 attacks will hold a memorial service in Grosvenor Square in London. This service has taken place each year since the attacks. In the United States, our Consulate-General in New York will attend a memorial concert that will also take place in New York's British Garden at Hanover Square to honour the victims.
In reflecting on the impact of that historic day and looking ahead to the future, staff from the British Embassy in Washington, the British Council, and British Consul-General in New York have written a series of blogs marking the 10th anniversary.
Published 9 September 2011