Press release
Senior appointments at UK Permanent Representation to the EU
UK Permanent Representation to the European Union announces new senior appointments.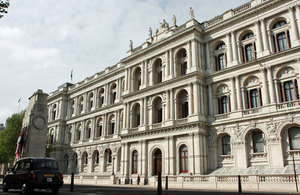 UKRep is pleased to announce two new appointments. Katrina Williams has been appointed to the post of UK Deputy Permanent Representative and Simon Case as the new Director General for the UK-EU partnership, leading the UK Government's work on exiting and seeking a new partnership with the European Union within the UK Representation to the EU.
Sir Tim Barrow, the UK Permanent Representative said:
I am delighted to welcome Katrina Williams and Simon Case to the UK Permanent Representation senior team. Both have extensive experience of Government and a strong record of policy and corporate leadership. These appointments complete the UKRep leadership team, as we continue to play our role as a full member of the European Union and as we prepare to leave and seek a new partnership with our friends and allies in Europe.
Further background
Katrina Williams has been Director General, International and Growth in the Department for Business, Energy & Industrial Strategy (BEIS) since December 2016. Prior to this she was Director General for International, Science and Resilience in the Department of Energy and Climate Change (DECC) and then in BEIS. Before joining DECC, Katrina was Director General for Strategy, Evidence and Customers in the Department for Environment, Food & Rural Affairs (Defra), advising ministers on the department's strategic focus and overseeing all its international and EU work. From 2008 to 2012 she was Director General for Food and Farming in Defra, having joined the department as a director covering a range of animal health policies.
From 2003 to 2006 she was Deputy Head of the European Secretariat in the Cabinet Office, co-ordinating Whitehall policy and advising the Prime Minister on European matters in the run-up to and during the UK's 2005 Presidency of the EU. She has had a range of roles in the Department of Trade and Industry, Foreign and Commonwealth Office and Cabinet Office as well as the Ministry of Agriculture, Fisheries and Food and Defra and has twice served in the UK's Permanent Representation to the EU in Brussels.
Simon Case was appointed as the Prime Minister's Principal Private Secretary in January 2016. He is also the UK Sherpa for the G7 and the G20. Previously Simon was Director of Strategy at GCHQ. Simon joined the Civil Service in 2006. His previous roles have included postings with the Northern Ireland Office and the Cabinet Office, where he was Director at the Implementation Group. Simon worked in Number 10 between autumn 2012 and July 2014, where he served as Private Secretary and later as Deputy Principal Private Secretary to the Prime Minister.
The Deputy Permanent Representative to the EU represents the UK on the Committee of Deputy Representatives (Coreper I) in the Council of the European Union. Coreper I covers social, environmental and economic issues.
Published 10 March 2017