World news story
Seminar on International Benchmarking of Thailand's Draft Public Procurement Law
We work with UNDP and Comptroller General's Department on public procurement integrity and openness.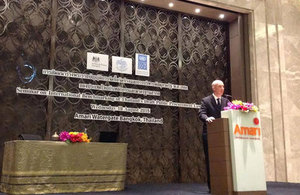 The British Embassy Bangkok, United Nations Development Program (UNDP), and the Comptroller General's Department is working together to promote integrity and openness in public procurement in Thailand. The Royal Thai Government is in the process of drafting a new Public Procurement Law (PPL), which will cover all public entities, including central government agencies, local governments, state-owned enterprises, independent organisations and other types of public institutions.
The seminar is part of a UNDP project on Advancing Anti-Corruption Efforts in Thailand: A Multifaceted Approach, to provide technical support to the Royal Thai Government in its efforts to reform and modernise the public procurement system, with financial contributions from the UK's Foreign Commonwealth Office's Prosperity Fund.
This seminar aims to introduce the draft PPL, which was approved by the Cabinet on 7 July 2015, examine this new PPL with international good practices, and provide a platform for discussion between key stakeholders, to ensure effective implementation of PPL and successful public procurement reforms in Thailand.
Further information
Follow British Ambassador Mark Kent on twitter @KentBKK
Document information
Published: 21 August 2015