Seek early help to avoid repossession
Housing Minister Grant Shapps today welcomed new figures from lenders showing that fewer homeowners are facing the threat of repossession. …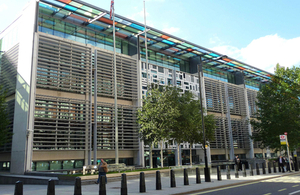 Housing Minister Grant Shapps today welcomed new figures from lenders showing that fewer homeowners are facing the threat of repossession.
New figures from the Council of Mortgage Lenders released today show that repossessions in the third quarter of 2010 were down five per cent on the previous quarter, and 27 per cent less than the same time in 2009.
In August, the Council of Mortgage Lenders revised down their original forecast for the number of households being repossessed in 2010, from 53,000 to 39,000.
However, the Minister urged anyone facing the real prospect of losing their home to seek early advice and support to have the best chance of avoiding repossession.
Anyone with mortgage worries can visit the Directgov Mortgage Help website (see link top right) for free information and support, including the option to develop a tailored personal action plan to suit individual circumstances, while advice is also available from organisations including Shelter and Citizens Advice.
Mr Shapps also encouraged homeowners to speak to their mortgage lenders, who may be able to offer revised repayment options to help them avoid repossession.
But he also argued that the most important thing the Government is doing to help homeowners is to tackle the record deficit, to avoid the need for rapid increases in interest rates.
Grant Shapps said:
While I am encouraged that fewer families are facing the frightening possibility of losing their homes, we cannot rest on our laurels. I would advise anyone with money worries that the best thing they can do to avoid repossession is to seek help and support as early as possible.

That's why we're keeping open our mortgage help website, so concerned homeowners can go online and develop personal action plans to get their finances back on track. This is in addition to the expert support available from a range of organisations including Shelter and Citizens Advice.

But the most important thing that Government can do to help keep repossessions low is to continue our efforts to tackle the record deficit. By doing this we can avoid the need for rapid increases in interest rates, and keep the pressure off homeowners feeling the pinch.
Latest figures also published today show that a Government scheme aimed at helping vulnerable households most at risk of losing their home, the Mortgage Rescue Scheme, has helped 1,598 households avoid the immediate threat of repossession with 475 homeowners having completed the full process between July and September and 1,456 since the scheme's launch in January 2009.
Notes to editors
Twitter
Keep up to date with the Department by following us on Twitter (external link).
Media enquiries
Visit our newsroom contacts page for media enquiry contact details.
Published 11 November 2010