Press release
Secretary of State visits Cereals 2010, 10 June 2010
Caroline Spelman today visited the Cereals Show 2010 in Cambridgeshire.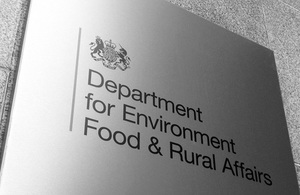 There were a wide range of stands and live demonstrations. The Secretary of State toured a number of stands including the Sygenta, John Deere, Velcourt, HGCA and Kings/Frontier stands.
The Secretary of State also had the opportunity to visit the Campaign for Farmed Environment stand where she was introduced to some of the campaign partners such as FWAG, LEAF and RSPB. The Campaign encourages farmers and land managers to voluntarily adopt important land management practices that will benefit the environment. The Secretary of State praised the Campaign and assured farmers of the new Government's commitment to making it a success.
Caroline Spelman said:
"The Campaign for the Farmed Environment is an initiative which genuinely has the potential to transform our countryside, protect local ecosystems and increase our native biodiversity.
This Government wants to give farmers back the freedom and flexibility they need to make the right decisions for their farms."
Published 10 June 2010