Press release
Secretary of State for Wales to celebrate best of Welsh engineering
David Jones MP: "The UK is in a global race, and Wales has an important role to play."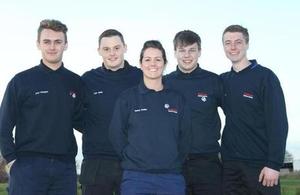 The Secretary of State for Wales will today visit some of the most advanced engineering companies in north-Wales to celebrate their skills and talent and highlight the package of measures announced in the Budget to support growth, employment and reduce energy costs.
David Jones MP will visit a number of small and medium enterprises (SMEs) as well as larger companies in north-Wales, including:
Raytheon UK's Broughton site:
Raytheon UK employs 70 highly skilled aircraft integration and modification specialists at its site in Broughton. Its technology is used in some of the most advanced aircraft surveillance and intelligence systems in the world, including its Sentinel aircraft system, the UK's most advanced manned surveillance aircraft, which its teams in Broughton and Waddington have delivered to the UK's Ministry of Defence. Its systems were also recently used to capture images of the UK floods to co-ordinate efforts to prevent further flooding.
The PPA Group:
The PPA Group in Broughton supplies products and services for the aviation, marine and automotive sectors. The company also supports local schools and colleges in engineering design and is an industrial sponsor for the next generation of young engineers.
Consort Precision Diamond Co Ltd:
Consort Precision Diamond Company Limited, based in Kinmel Bay, manufactures rotary diamond dressers used to make parts for the aerospace, automotive and power generation industries. It also provides expert advice to customers world-wide in selecting the best type of Rotary Diamond Dresser.
Port of Mostyn (visit to Airbus ship docking site, and construction base for wind turbines for Gwynt y Mor wind farm):
The Port of Mostyn, one of the oldest ports in the country, is home to the Airbus A380 wing transfer facility, making it a vital link in the chain for Airbus manufacturing in north-Wales. Gwynt y Mor offshore wind turbine construction site is also based at the Port of Mostyn. The first wind turbine was installed 12km offshore in May 2013. The wind farm will boast 160 turbines – due to be connected to the grid later this year - making it one of the largest offshore wind farms in Europe. After completion, the farm will generate power for up to 400,000 households in the UK. On 31 March 2014 the UK Green Investment Bank announced its purchase of a 10% stake in RWE Gwynt y Mor project in a deal worth £220 million.
2014 Budget measures to support business:
The annual investment allowance is being doubled to £500,000, and will be extended by a further year to December 2015. This means 99.8% of businesses could pay no tax on investment.
Corporation tax has been cut by 1% to 21%. It has fallen from 28% in 2010 and will fall further to 20% in April 2015, making it the lowest corporation tax rate in the G20. Fuel duty is also frozen again.
A Business Energy Package will save Welsh businesses, especially those with high energy requirements, up to £240 million between 2016-17 and 2018-19.
Almost 200,000 SMEs in Wales could benefit from a package designed to improve their access to finance. This will see the government consulting on how to better match SMEs rejected for a loan with alternative credit providers.
Read about budget measures for business
Secretary of State for Wales David Jones said:
"British products and services and - by extension - products and services produced in north - Wales are in high demand and as a country our global profile has never been higher.
"SMEs contribute 36% of all private sector turn-over in Wales, and are responsible for 630,000 jobs. Since 2010, another 1,000 SMEs have set up in Wales. Indeed, business confidence across the UK is at a record high, and the highest it has been in Wales since 2009.
"But the UK is in a global race, and Wales has an important role to play. We are supporting businesses, large and small, to export their products and expertise around the world.
"To take advantage of this we are creating the right conditions for further growth and employment by cutting taxes and reducing energy costs so businesses in Wales can make the most use of all the opportunities and support available to them."
Further information:
The UK government is committed to making it easier for ambitious small business to grow. Its 'Small business: GREAT ambition' campaign includes measures that will remove some of the barriers small businesses face, improve the business environment and make it easier for them to fulfill their potential.
Published 3 April 2014