Press release
Second G-Cloud supplier framework goes live
The second G-Cloud supplier framework for cloud-based IT services goes live today.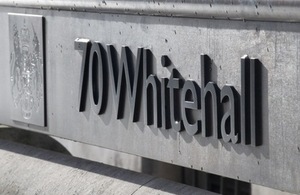 26 October 2012
The announcement of the successful companies on the second G-Cloud supplier framework for cloud-based IT services, underlines how the government is making it easier for SME suppliers to compete for public sector business, Cabinet Office Minister Francis Maude said today.
Of the 458 suppliers on the 12-month framework, which goes live today, three-quarters are SMEs.
Minister for the Cabinet Office Francis Maude said:
This second G-Cloud procurement builds on the success of the first. It will continue the transformation in how the public sector buys, manages and delivers IT services, and how suppliers work with government, driving greater efficiency and savings for the taxpayer.
"As well as focusing on efficiency and reducing costs, the government is committed to supporting economic growth. Part of this is about levelling the playing field for small and medium-sized firms by making it simpler, quicker and cheaper for them to compete for government business. The good news is that not only has the number of suppliers on the second G-Cloud framework nearly doubled compared with the first, but that the proportion of SMEs has remained just as high.
Since February, public sector organisations have been able to purchase a range of the best IT services off the shelf from the government's CloudStore on a "pay-as-you-go" basis, rather than having to develop their own systems. This model means the government can use what it wants, when it wants it, and save money by avoiding duplication of services that cannot be shared. It avoids the government being locked into long-term contracts.
To date there have been 99 purchases of IT services through the CloudStore, totalling more than £2.2m, and 70 per cent of this spend (more than £1.5m) has been with SMEs.
G-Cloud Programme Director Denise McDonagh said:
The high representation of SMEs on both G-Cloud frameworks and in purchases from CloudStore are positive signs that government is moving away from dependence on a small number of large suppliers for IT services. It also demonstrates growing support for the G-Cloud concept. We are creating a truly competitive and diverse marketplace that encourages service providers to improve the quality and value of the solutions they offer, reducing the cost to taxpayers and suppliers, who also benefit from the speed and ease of procurement that G-Cloud offers.
The second tranche of the G-Cloud service catalogue includes around 3,000 services, such as anti-spam, agile tools, simulation and training, and end-user device service packages.
Published 26 October 2012