Press release
Second Anniversary of Bahraini Independent Commission of Inquiry Report
FCO welcomes steps taken to implement Bahrain Independent Commission of Inquiry report, urges full implementation and offers continued support.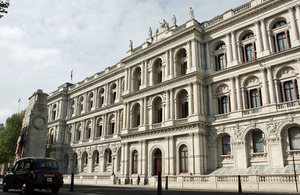 Commenting on the second anniversary of the publication of the Bahrain Independent Commission of Inquiry report, an FCO spokesperson said;
Establishing the Bahrain Independent Commission of Inquiry was an unprecedented and internationally welcomed response to the unrest in Bahrain in the Spring of 2011.

We welcome the steps taken so far, including the operational launch of the Ministry of Interior's Ombudsman's Office and the publication of its first public report into conditions at Jaw prison. We also welcome the issue of a Royal Decree to establish an independent Commission for Prisoners' and Detainees' rights which will monitor conditions at places of detention, as well as reform of the National Institution of Human Rights. However, we are clear that there are areas where progress on implementation has been slow. In particular, more needs to be done on accountability, in particular regarding deaths and allegations of torture during the 2011 unrest and in response to ongoing allegations of abuses.

We continue to support and assist the government of Bahrain with judicial and human rights reform, including in capacity-building and promoting human-rights training. We acknowledge that sustained, comprehensive reform will take time, and we urge the Government to build on the steps they have taken and ensure that the recommendations set out in BICI (Bahrain Independent Commission of Inquiry), as well as those in the UN Universal Periodic Review of 2012 which it accepted, are implemented in full soon.
We call on all sides in Bahrain to play a constructive role in this process for the long-term stability of the Kingdom.
Further information
Follow the Foreign Secretary on twitter @WilliamJHague
Follow the Foreign Office on twitter @foreignoffice
Follow the Foreign Office on facebook and Google+
Published 23 November 2013