News story
Seaside towns to be given £29 million to boost growth
Coastal Communities Fund increased by 5% and is extended until 2016.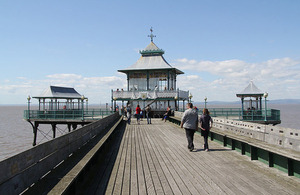 Chief Secretary to the Treasury, Danny Alexander has today (23 August 2013) announced that next year's Coastal Communities Fund will be worth £29 million, an increase of 5% from last year.
The Coastal Communities Fund was launched in 2012 to invest in seaside towns and villages, helping them achieve their economic potential, reduce unemployment and create new opportunities for young people in their local area.
The projects approved in the first year of the fund are forecast to deliver over 5,000 jobs and create 500 apprenticeships in the coming years.
Successful projects have included the National Lobster Hatchery in Cornwall, heritage railways in North York and Swanage, boat building apprenticeships on the west coast of Scotland, and improved ports facilities and pier regeneration in South Wales, in the North West and South Coast of England - as well as many other innovative projects across the UK.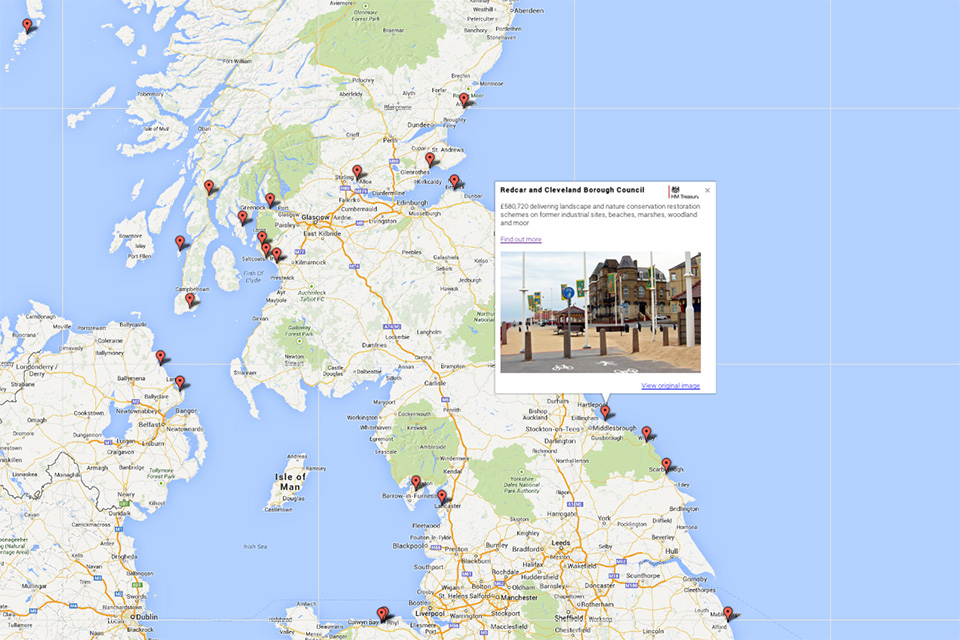 The government committed to extend the scheme to 2016 in the Spending Round so that even more communities from across the UK can bid for a share of the pot for growth boosting initiatives.
Chief Secretary to the Treasury, Danny Alexander said:
The Coastal Communities Fund is giving our seaside towns and villages a real chance to grow as the nation benefits from our marine resources.

We asked projects to be creative and they met the challenge - in year 1, each of the 51 projects that received funding was a unique response to the challenges in that area, from creating a modern harbour on the Island of Barra, to regeneration of the historic North York Moors railway, and making Wadebridge in Cornwall Britain's first solar powered town.

The fund will support around 5,000 jobs and has created hundreds of opportunities for local apprentices in new charitable, entrepreneurial or social enterprise schemes. Growing marine revenues from the Crown Estate have allowed us to increase the fund by 5% and I urge projects to get their bids ready for round 3 when it opens next year.

The government created the fund to enable coastal areas to share in the gains from our marine resources, and that is exactly what it is doing.
Communities Secretary, Eric Pickles commented:
The government is committed to supporting our seaside towns and we know the Coastal Communities Fund is really making a difference so I'm delighted to announce we are increasing the funding for next year.

This will help our coastal towns make the most of their potential by diversifying their economies and industries so they can become year-round success stories. The projects our fund has already supported will support around 5,000 jobs, more than 300 new business start ups and over 1,400 training places.
Financial Secretary to the Treasury, Greg Clark added:
Many seaside towns have particular challenges and the Coastal Communities Fund is another way we're helping them tap into new business opportunities, creating jobs and new skills that will benefit the whole community. The fund is growing year by year and we want many more exceptional projects to benefit in the future.

Through measures like the Coastal Communities Fund, City Deals and work with Local Enterprise Partnerships we're putting civic leaders, residents, local businesses and civil society organisations in the driving seat; helping seaside towns around the country strengthen their local economy.
The Coastal Communities Fund is financed by the government through the allocation of funding equivalent to 50% of the revenues from the Crown Estate's marine activities in that area.
Rising revenues from renewable energy such as offshore wind and tidal power, as well as from aquaculture centres and ship moorings on the foreshore have meant increased money for Britain's coasts to combat decades of economic decline and create opportunities for young people.
Successful bids to the Coastal Communities Fund are chosen because of their impact on local jobs, training and their ability to drive forward growth. The funds are allocated by central government and the devolved administrations in partnership with the Big Lottery Fund.
The successful bids for round 2 will be announced in the autumn and nominations for round 3 are expected to open in early 2014.
The table below sets out area specific funding since year 1 of the fund.
|   | 2012/13 funding (£m) | 2013/14 funding (£m) | 2014/15 funding (£m) |
| --- | --- | --- | --- |
| England | 18.20 | 21.7 | 22.15 |
| Scotland: Highlands & Islands | 1.85 | 2.4 | 2.85 |
| Rest of Scotland | 2.05 | 1.75 | 1.95 |
| Wales | 1.15 | 1.45 | 1.55 |
| Northern Ireland | 0.45 | 0.5 | 0.6 |
| Total | 23.70 | 27.8 | 29.1 |
Photo by flamesworddragon on Flickr. Used under Creative Commons.
Published 23 August 2013
Last updated 23 August 2013
+ show all updates
added scotland pdf
Added a link to the Pinterest page of some of the current projects
First published.