Press release
Seaside funding success for 10 coastal towns
New funding for projects will help create and safeguard nearly 1,400 jobs and help with winter storm repairs.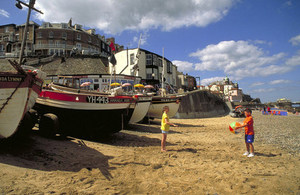 Ten coastal towns today received new funding for projects that will help create and safeguard nearly 1,400 jobs and help with essential repairs in areas affected by the winter storms.
A lido, Victorian arches and a coastal path are some of the schemes to benefit from money that will help with restoration.
More than £8.5 million is being distributed to towns around England for schemes that will create tourist attractions, regenerate historic sites and provide new flood defences.
The money is being made available from the government's Coastal Communities Fund and will attract a further £6.2 million from other private and public bodies.
The Prime Minister David Cameron and Chancellor of the Exchequer George Osborne also announced an extra £3 million for the fund to encourage growth and create jobs in coastal towns.
Seaside towns have untapped potential to create vibrant economies and are an important part of the government's long-term economic plan to boost jobs and businesses around the country.
Coastal Communities Minister Penny Mordaunt said:
Our Coastal Communities Fund is bringing about some really innovative projects around the country and schemes that will make a big difference to those towns affected by the winter storms.

Seaside towns are a strong part of this country's heritage and have huge potential to create new businesses that provide jobs.

They are an important part of the government's long-term economic plan and we are determined to help these communities reach their true potential.
Chief Secretary to the Treasury, Danny Alexander said:
The Coastal Communities Fund is already making a real difference to our coastal towns and helping communities regenerate their local economy. So far the scheme has already supported over 7,500 jobs and 1,400 training places up and down the country.

I am delighted to announce an additional £8.5 million for coastal projects across the country, this will help communities build a sustainable future for themselves and also benefit visitors to these seaside towns over the years to come.
The Coastal Communities Fund was launched in 2012 to invest in seaside towns and villages, helping them achieve their economic potential, reduce unemployment and create new opportunities for young people in their local area.
It is helping seaside towns make the most of their potential by diversifying their economies and industries so they become year-round success stories. The fund has to date already spent £54 million, supporting around 7,500 jobs around the UK, more than 300 new business start-ups and 1,400 training places.
The 10 projects are:
Jubilee Pool Lido – Penzance, Cornwall - £1,950,000
Funds will repair and relaunch the Grade II Listed 'Jubilee Pool' (Lido) to create an all year round attraction. Penzance was badly hit by coastal storms in early 2014 which caused serious damage to the pool. Restoration will make it a catalyst for the wider regeneration of the local area and the town as a whole. It will provide a springboard for developing a social enterprise led restaurant and health and well-being spa on the site. It will safeguard and create 38 jobs and apprenticeships.
Victorian Arches, Portsmouth, Hampshire - £1,755,000
This will revitalise the Victorian Arches at the heart of Point Battery, central Old Portsmouth. Located between a historic 15th century Square and the Round Towers (Portsmouth's historic fortifications), the Arches have been used informally by artists since the 1960s but are neglected. The project will refurbish the Arches as part of an "ARTches" project to provide affordable workspace and exhibition space in attractive surroundings. This will support the council's drive to strengthen Portsmouth's visitor attractions. It will create a centrally located "creative hub" with leisure and catering attractions within a historic setting and give a boost to nearby shops and services. It will create more than 105 jobs.
Waldringfield Flood Defence, Suffolk - £633,000
Funds will help pay for the construction of a system of flood defences for homes and businesses in the flood area on the River Deben Estuary. The recent tidal surges had a big impact on homes and local businesses and if flooding of this scale were to happen again many local businesses would struggle to meet the costs of repair work, effecting the local economy and employment. This project is also being used by the Environment Agency as a "pilot" scheme to demonstrate the benefits of working in partnership with private, public and voluntary organisations and they will be sharing their experiences at a local and national level. This project will create and safeguard 51 jobs.
Maltings Building – Wells-next-the-Sea, near Cromer, Norfolk - £610,000
Wells Maltings Trust aims to transform a dilapidated 19th century Maltings building into an integrated arts, heritage and learning space with auditorium, café and tourist information point. It will create and safeguard around 95 jobs and provide space for learning as well as an attractive all year round tourist destination.
South West Coastal Path – Cornwall, Devon, Dorset and Somerset - £1,114,000
This project will repair, improve and promote the South West Coastal Path. Funds will help with 32 urgent repair works to the path, information boards and signage, and marketing. This will create and safeguard around 782 jobs from construction, management and tourism generated by the path.
RSPB Nature Reserve, Bempton Cliffs, Yorkshire - £452,000
Funding will enhance the facilities at the reserve, improve the visitor experience and create year-round revenues to further develop wildlife conservation work. The project will extend and upgrade the coastal nature reserve's facilities to attract a further 10,000 visitors per year. This will increase visitor spend, new jobs and volunteering opportunities for local people. This project integrates into East Yorkshire's "Nature Triangle" and links well with other nature related visitor attractions. It will safeguard and create around 14 jobs and 30 volunteer places.
Yorkshire WildlifeTrust, Spurn Point - £498,000
The project includes the restoration of the iconic Matthew's Lighthouse and nearby gun emplacement on the Point, the creation of a visitor centre with café, and the development of sustainable transport links to replace access lost in the December 2013 storm surge. It will address seasonality in local tourism sector and promote the area as a destination for nature tourism. The Humberside area boasts salt marshes, chalk cliffs and freshwater lakes. The lighthouse will be restored and converted into a heritage/visitor centre providing accommodation over 6 floors telling the story of Spurn's maritime heritage, strategic defence role and military history. The project will create and safeguard around 77 jobs.
Historic Fruit Market – Kingston upon Hull - £800,000
This project will continue regeneration of the historic 'Fruit Market' area of Hull and improvements to pathways, street furniture and other public realm works ahead of the city being UK City of Culture in 2017. The area has been identified as a growth opportunity for independent businesses working in the creative industries and will support and safeguard around 100 jobs.
Park View 4 U, near Lytham St Annes, Lancashire - £395,000
This will turn a derelict site into a new visitor attraction with a state of the art sand and water play area. The area will be landscaped in a seaside theme and will used to deliver school education and activities about the natural surroundings of the coast, along with a café. This will create 11 jobs.
Youth Hostels – Brighton, East Sussex and Robin Hoods Bay, Yorkshire - £401,000
Funding will help establish a new hostel in Brighton and redevelop an existing youth hostel in on the North Yorkshire coast. These will provide new and improved holiday accommodation in two popular coastal towns. This will boost tourism numbers and help create a new café for both locals and visitors. This project will create and support around 76 jobs.
Further information
More than 11 million people live in coastal communities, from major cities to seaside villages with key industries for these communities include fishing, shipping and renewable energy alongside tourism.

There are around 250,000 people working in seaside tourism in more than 150 resorts which contribute £4 billion to the UK economy.

In 2013, 18.6 million overnight trips were taken by British residents to the seaside in England spending £3.9 billion. There were a further 128 million day visits spending £4.5 billion.

The Coastal Communities Fund is financed by the government through the funding equivalent of 50% of the revenues from the Crown Estate's marine activities in that area.
Office address and general enquiries
2 Marsham Street
London
SW1P 4DF
Contact form http://forms.communiti...
General enquiries: please use this number if you are a member of the public 030 3444 0000
Published 1 August 2014