Press release
Scottish Apprenticeship Week: join the Civil Service
During Scottish Apprenticeship Week, we're encouraging school leavers in Scotland to apply for the Civil Service Apprenticeship programme.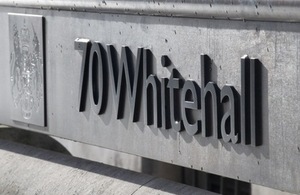 The Civil Service Fast Track Apprenticeship opens on 7 March. It gives people the chance to earn a competitive salary while they work towards a Level 4 apprenticeship, gaining the skills and experience they will need for a successful career in the Civil Service.
Apprentices will be able to apply for roles in business, commercial, digital, finance, project delivery and communications.
Ryan Davies from Glasgow was dreading going back to school once his study leave had ended:
I had sat my 4 Higher exams and I knew that making a move into further education was not right for me, and that I was ready to leave school.
I had the results, but I felt the best option was to get into an organisation, and go far, through the medium of an apprenticeship.
He started his role as a Universal Credit Work Coach at the Department for Work and Pensions in Glasgow in September 2015.
He said:
I am very excited for my future in the Civil Service. There are countless fantastic opportunities in many different areas which are available and I intend to take full advantage of everything that I possibly can.
The apprenticeship scheme is open to everyone aged 16 or over. There's no upper age limit and it doesn't matter when you gained your qualifications. It's your skills, attitude and outlook that matter in the selection process. For most of the roles you just need 5 GCSEs, grades A* to C, including English language and maths.
This work on apprenticeships follows on from an announcement earlier in February where Matt Hancock outlined plans to end inequality across the public sector following the release of the Bridge Report.
The report, commissioned by the Civil Service, examines why only 4.4% of successful applicants to the graduate programme are from the poorest backgrounds. It pledged to create over 200,000 apprenticeships in the public sector by 2020, of which over 30,000 will be in the Civil Service.
Minister for the Cabinet Office, Matt Hancock, said:
We are building a One Nation Civil Service, that is more reflective of those we serve. I want to see a Britain where nobody is defined by the circumstances of their birth, which is why I want to encourage as many people as possible to apply for our fantastic apprenticeship scheme.

Inequality matters. Countries with higher income inequality have lower levels of social mobility. It's harder to climb the ladder of opportunity if the rungs are further apart. We're going to put more rungs in that ladder. I am not prepared to accept unequal access and unequal progress in Britain's top institutions. We will tear down these barriers to fairness for all.
Sir Jeremy Heywood, Cabinet Secretary and Head of the Civil Service said:
The Fast Track Apprenticeship programme is a fantastic opportunity for all the young people in this country with the ambition, talent and enthusiasm to join one of the greatest organisations in the country, a real force for good in the country; the Civil Service.

The Civil Service has taken great strides to improve its diversity and reaching out to underrepresented groups is a top priority for all of its youth recruitment activity this year. Respecting and valuing differences will help to ensure that Civil Service policies and services reflect the needs and experiences of the people it serves.
Published 4 March 2016