Press release
Scientists use DNA technology to diagnose cases of TB faster
New DNA technology shown to be better at diagnosing cases of tuberculosis (TB).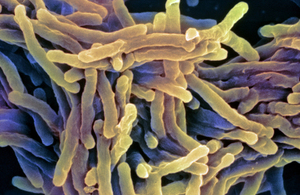 Whole genome sequencing is a faster, cheaper and more effective way of diagnosing tuberculosis (TB) says a new study published in the journal Lancet Respiratory Medicine.
Dr Louise Pankhurst of the University of Oxford and a team of worldwide collaborators including Public Health England (PHE) utilised innovative DNA technology to diagnose cases of TB up to 8 times faster than traditional methods.
While whole genome sequencing has been previously used in TB research studies, this is the first time the technology was applied in real world scenarios. The researchers at Oxford's John Radcliffe Hospital were able to detect presence of TB and whether it was resistant to commonly used antibiotics within 1 week – up to 8 times faster than utilising traditional diagnosis methods.
In addition to facilitating faster and more targeted treatment of people with TB, the speedy diagnosis also meant the scientists were able to detect and respond to potential outbreaks as they happen. The innovative technology also proved more cost effective, at an average cost of £481 per positive case, compared to £517 per case using current technologies.
The stunning results of this trial have implications for TB prevention in the UK, with clinical adoption of the new technique by PHE expected to reduce transmission of TB.
It was funded by Department of Health and the Wellcome Trust through their joint Health Innovation Challenge Fund (HIC Fund) and supported by the NIHR Oxford Biomedical Research Centre and the NIHR Health Protection Research Unit in Healthcare Associated Infections and Antimicrobial Resistance. The new technique will be adopted by PHE and is expected to reduce transmission of TB.
TB is a major part of PHE's strategy for infectious diseases due to some increases in incidence and emergence of multi-drug resistant infections. PHE is also working with Genomics England as part of the '100,000 Genomes Project' to further understanding of why some people develop severe reactions to infections.
Lead author Dr. Louise Pankhurst, University of Oxford, said:
This is a really exciting time to be working in infectious disease research. The UK is poised to become the first country in the world to replace traditional tuberculosis diagnosis with whole genome sequencing. Our study has shown how this will dramatically speed up the time taken to diagnose TB, helping patients be placed on the most effective treatment as soon as possible and reducing the risk of disease transmission.
Professor Derrick Crook, Director of the Public Health England National Infections Service said:
This ground-breaking research provides a roadmap for faster, cheaper and more effective diagnosis of TB, and is a crucial step in Public Health England's goal of eliminating TB as a public health problem in England.

This marks a significant milestone in the way we tackle TB, yet things are going to get better as whole genome sequencing technology is rapidly becoming much faster and less expensive and will ultimately inform the way we deal routinely with all infectious disease diagnosis.
Background
Read the Lancet study.
The study was conducted at the Oxford University Hospitals NHS Foundation Trust, and was funded by the Health Innovation Challenge Fund (HIC Fund). It was supported by the NIHR Oxford Biomedical Research Centre (BRC) and the NIHR Health Protection Research Unit (HPRU) in Healthcare Associated Infections and Antimicrobial Resistance at the University of Oxford.
The Oxford University Hospitals NHS Foundation Trust (OUH) is one of the largest acute teaching trusts in the UK, with a national and international reputation for the excellence of its services and its role in patient care, teaching and research. The Trust supports world-leading research programmes in cardiovascular diseases, musculoskeletal disorders, neurological disorders such as Parkinson's and Alzheimer's through its designation as one of the UK's five comprehensive biomedical centres and units. It works in close partnership with the University of Oxford and is a leading centre for cancer, neurosciences, diabetes, genetics and many other fields.
Research themes of particular strength are:
cancer
cardiovascular science
diabetes
endocrinology and metabolism
infection and immunology
musculoskeletal science
neuroscience
reproduction and development
As of October 1 2015, the Trust was awarded Foundation Trust status. This decision comes after the Care Quality Commission gave OUH an overall rating of 'Good' in May 2014, and after scrutiny of the Trust's quality, finances, service delivery and governance arrangements by the NHS Trust Development Authority and Monitor. The Trust has been designated as a major trauma centre and is one of four UK centres for craniofacial surgery and The Trust employs over 12,000 staff and consists of four hospitals: the Churchill Hospital, John Radcliffe Hospital and Nuffield Orthopaedic Centre in Oxford and the Horton General Hospital in Banbury.
The NIHR Oxford Biomedical Research Centre is funded by the National Institute for Health Research, and is a partnership between the Oxford University Hospitals NHS Foundation Trust and the University of Oxford. The NIHR provides the NHS with the support and infrastructure it needs to conduct first-class research funded by the Government and its partners alongside high-quality patient care, education and training. Its aim is to support outstanding individuals (both leaders and collaborators), working in world class facilities (both NHS and university), and conducting leading edge research focused on the needs of patients.
The National Institute for Health Research (NIHR) is funded by the Department of Health to improve the health and wealth of the nation through research. Since its establishment in April 2006, the NIHR has transformed research in the NHS. It has increased the volume of applied health research for the benefit of patients and the public, driven faster translation of basic science discoveries into tangible benefits for patients and the economy, and developed and supported the people who conduct and contribute to applied health research.
The NIHR plays a key role in the Government's strategy for economic growth, attracting investment by the life-sciences industries through its world-class infrastructure for health research. Together, the NIHR people, programmes, centres of excellence and systems represent the most integrated health research system in the world. Further information is available from the NIHR website.
Public Health England exists to protect and improve the nation's health and wellbeing, and reduce health inequalities. It does this through world-class science, knowledge and intelligence, advocacy, partnerships and the delivery of specialist public health services. PHE is an operationally autonomous executive agency of the Department of Health. Twitter: @PHE_uk, Facebook: www.facebook.com/PublicHealthEngland.
PHE Press Office, infections
61 Colindale Avenue
London
NW9 5EQ
Published 3 December 2015