World news story
Scientific cooperation agreement with Fapesp
Funded by the Newton Fund, 'Researcher Links' promotes cooperation between Biodiversity researchers between six LatAm countries.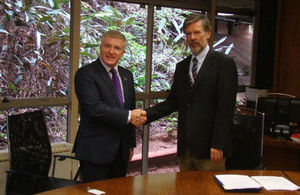 Trade Envoy, Mark Prisk, the President of the São Paulo Research Foundation (FAPESP), José Goldemberg, and the Scientific Director of FAPESP, Carlos Henrique de Brito Cruz, launched Researcher Links Regional Biodiversity Workshops (Latin America) and Researcher Links Biodiversity Travel Grants, a research collaboration between the UK, Brazil and five other LatAm countries under the Newton Fund.
'Researcher links' is a Newton funded programme from the British Council which aims to enhance scientific collaboration by promoting an international exchange of researchers between UK universities and universities from partner countries in the region. A number of countries are involved in the partnership and this includes Mexico, Colombia, Chile, Peru, Argentina and Brazil (São Paulo State only). The application window is now open on British Council and Fapesp websites. The deadline is 13 October 2017.
'Researcher Links' aims to improve the quality of research and development. Regional biodiversity workshops will take place in signatory countries to allow researchers to make international connections. Once funded, grants are available for early-career researchers in the UK and partner countries.
The British Minister said:
The Newton Fund enables the UK and Brazil to work together to tackle global challenges such as Infectious Diseases, Climate Change and Agriculture. This agreement represents an unique opportunity to elevate researchers' cooperation.
Published 16 August 2017