Schools Minister pays visit to improved primary schools in Dover
Nick Gibb pays tribute to Dover Federation for the Arts primary schools following their achievements in key stage 2 examinations.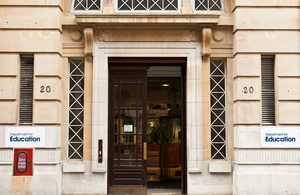 Schools Minister Nick Gibb visited White Cliffs Primary College for the Arts, Barton Junior School, Shatterlocks Infant and Nursery, and Astor College for the Arts, in Dover on 31 January. The four schools make up the Dover Federation for the Arts. The minister had recently written to White Cliffs and Barton to congratulate them on being in the top 100 of primary schools for sustained improvement over four years in Key Stage 2 tests. He wanted to find out more about how they achieved their success and asked if he could visit.
The minister spent time with a Year 6 English class at White Cliffs, where pupils discussed their imaginary wartime experience of seeing a banana for the first time. He was very impressed by the pupils' use of vocabulary, similes and metaphors, which showed their wide level of reading. The minister also chatted with the pupils about the careers they hoped to have in the future, which included being a policeman, joining the army, a scientist, a zookeeper and becoming a nurse.
Mr Gibb described the improvement that White Cliffs had made as 'stratospheric' and said he was particularly impressed by the Year 6 class and some of the work that was read to him. He said:
It was astonishing, the vocabulary and the expressive way it was read - I was very impressed. It is clear the children in that class have read a lot of books.
DfE enquiries
Central newsdesk - for journalists 020 7783 8300
General enquiries - for members of the public 0370 000 2288
Published 2 February 2011