Savings accounts for children in long-term care
Donors who wish to give money directly to some of the most vulnerable young people in the UK will be able to through a new savings account for children in care, the Department for Education announced today.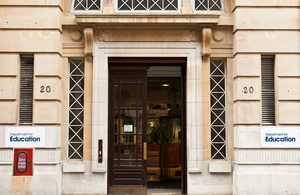 Donors who wish to give money directly to some of the most vulnerable young people in the UK will be able to through a new savings account for children in care, the Department for Education announced today.
Children's Minister Tim Loughton announced today the appointment of charity The Share Foundation to support more than 55,000 children who are in long term care.
The Share Foundation will open a Junior Individual Savings Accounts (Junior ISAs) for every young person who has been in care for more than a year, who do not have a Child Trust Fund, with the Government providing initial payments of £200 for each account.
In addition, they will seek donors who recognise that these vulnerable children often miss out on the kinds of support and chances that most children can take for granted. Funds raised by The Share Foundation will be distributed amongst the accounts they open.
Minister Tim Loughton said:
These children are some of the most vulnerable in our society and we are committed to investing in them so they can thrive. I want these savings to be worth much more than £200 by the child's 18th birthday and I hope individuals and organisations will also want to use these accounts to contribute and invest in the futures of these vulnerable children.

The savings will help them when they reach 18 and they are facing serious choices as they start out in the adult world. I am confident that, when combined with financial education, holding a real financial asset in a savings account will encourage these young people to learn about how to manage their money well and give them a decent start in their adult lives.
Welcoming The Share Foundation's appointment, the charity's Chair, Gavin Oldham, said:
This appointment presents a major opportunity to achieve our long-held objective of providing an inheritance for some of the most disadvantaged young people in our community. We particularly acknowledge the Government's initiative in making this possible and opening accounts with £200, even in these times of austerity.

The success of the project will be measured by the extent to which additional voluntary contributions can be harnessed to build on these starter funds, the effectiveness of financial education, smooth operational running and appropriate investment performance.

Evidence shows that the large majority of looked after children want to make the most of their opportunities in adult life, and to contribute to their communities effectively. It is our objective to help them realise that potential.
The scheme, worth a total of £16.7m until 2015, will offer tax-efficient savings accounts that can be held in cash or shares and will mature and be accessible on the account holder's 18th birthday.
Research shows that many children like to save money and rely on their parents for savings advice. Like any parent, the Government wants to provide the best support to children in its care and make sure they gain the same experience as any other young person.
The Department believes the scheme benefits these young people in two ways:
Providing a financial asset to vulnerable children who will be able to put it towards the costs associated with setting up home, transport or furthering their education.
Supporting these children - who may never have had a bank account or the opportunity to save before - in learning about saving, budgeting and managing money.
Payments under the scheme, which was first announced by the Chancellor of the Exchequer in 2011, are intended as a long-term asset that the child can draw on later in life. The families and carers of looked after children may also choose to pay into the accounts.
Barnardo's Chief Executive, Anne Marie Carrie, said:
I'm thrilled the Government has heard Barnardo's call for the introduction of an ISA scheme for children in care and is now taking steps to make this a reality. It's absolutely right that we help give children in care the same opportunities and aspirations as other children.

This money will provide them with vital financial support at a critical time as they leave care, and we encourage anyone looking to donate to a worthwhile cause to contribute to the scheme.
Action for Children Chief Executive, Dame Clare Tickell, said:
For children in care, who have missed out on so much in their lives, making their way in the world without the financial and emotional support of parents is incredibly daunting. We were therefore delighted that the Junior ISA for children in care - something Action for Children and Barnardo's have been campaigning for a long time - was approved last year. The Share Foundation has a proven track record in providing funds for looked after children and we are confident the scheme will run smoothly under its management.

Not only will the new Junior ISA for children in care ease their move to financial independence, but it will help to show these vulnerable children and young people that someone cares about their future.
Notes to editors
Previously, some looked after children received additional financial support from the Government through Child Trust Funds (CTFs). The new scheme continues this support for all children who did not benefit from CTFs. This includes those born after the CTF scheme was stopped, as well as older children who never benefitted from CTFs.
We estimate that around 55,000 children across the UK will benefit in the first year - most looked after children over the age of 10 who have been in care for a year or more, as well as very young children born after the end of CTFs. We estimate a further 14,000 will become eligible in each subsequent year. These numbers are estimates because exact numbers of beneficiaries will depend on future numbers of children in care.
The first payments will be made in the summer of 2012. The Share Foundation will open the accounts and make the payments. All children who do not already hold a Child Trust Fund and have been looked after for 12 continuous months or more starting on or after 3 January 2011 will be eligible for the scheme.
The scheme is UK wide and the Government has made provision for looked after children in the three devolved administrations to receive these funds. The same eligibility criteria will apply.
The final sum of the savings will depend on the rates of return provided by individual Junior ISAs, how old the child is when the account is first opened, the amounts of voluntary donations that the scheme partners can attract and any additional payments made into the Junior ISA by carers, parents or other relatives.
The report Our own two feet, published by Action for Children and Barnardo's illustrates young people's interest in such a scheme.
The Share Foundation was registered as a Charity on 14th February 2005. The Share Foundation seeks to reduce the generational cycle of deprivation affecting the poorest children and young people by encouraging highly targeted wealth distribution. Initially, and in the UK, it operated alongside the Child Trust Fund scheme making grants for the benefit of Looked After children from a range of Local Authorities whose accounts are overseen by the Official Solicitor.
DfE enquiries
Central newsdesk - for journalists 020 7783 8300
General enquiries - for members of the public 0370 000 2288
Published 28 February 2012