News story
Sarah Teather responds to claims about LA funding for children's centres
Children's Minister Sarah Teather responds to claims about local authority (LA) funding for children's centres.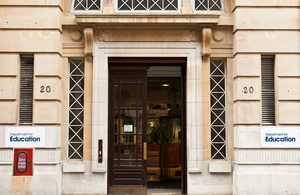 Responding to reports that 80 per cent of local authorities cannot guarantee they will fund their children's centres at the same level in the next financial year as in the current year, Children's Minister Sarah Teather said:
We have ensured there is enough money in the system to maintain the network of Sure Start services. We have secured funding for free childcare for three- and four-year-olds as well as the most disadvantaged two-year-olds. As councils make their spending decisions in the coming months, I hope they recognise the priority the Government has placed on early education.
We know high-quality Early Years support can have a lasting impact on children's lives, so we will expect local authorities to channel resources at those who will benefit most from the excellent support children's centres can offer.
DfE enquiries
Central newsdesk 020 7783 8300
General enquiries 0370 000 2288
Published 18 November 2010