News story
Sandhurst wins international competition
British Army officer cadets have claimed victory in a prestigious military skills competition held at the US Military Academy at West Point.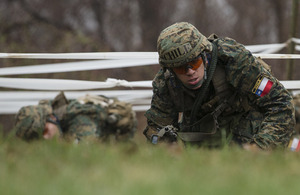 Organised by the West Point Military Academy, the Sandhurst Cup takes the form of an arduous military skills competition where the teams have to complete robust physical challenges (including an assault course), shooting contests and military knowledge tests.
The Royal Military Academy Sandhurst (RMAS) entered 2 teams to pit their skills against fellow officer cadets in over 56 teams from 10 countries, including the United States, Chile, South Korea, Qatar, Australia, Canada, Germany, Brazil and China.
Although competition organisers gave some clues as to what was involved – physical fitness and agility, foreign weapons' handling, navigation, rope-handling and chemical warfare, much of the competition was kept secret and some surprising twists were inserted into the 2 days.
Each British team consisted of 9 competitors, including 1 female officer cadet, who fitted their competition training around the demanding RMAS commissioning course.
Officer Cadet Alice West, part of the winning team, said:
What an amazing competition. The whole squad are so proud of winning; all the hard work has definitely paid off. It is a fantastic opportunity to test ourselves against teams from the West Point Military Academy and other countries, to see how we match up and to find out how they train as officer cadets.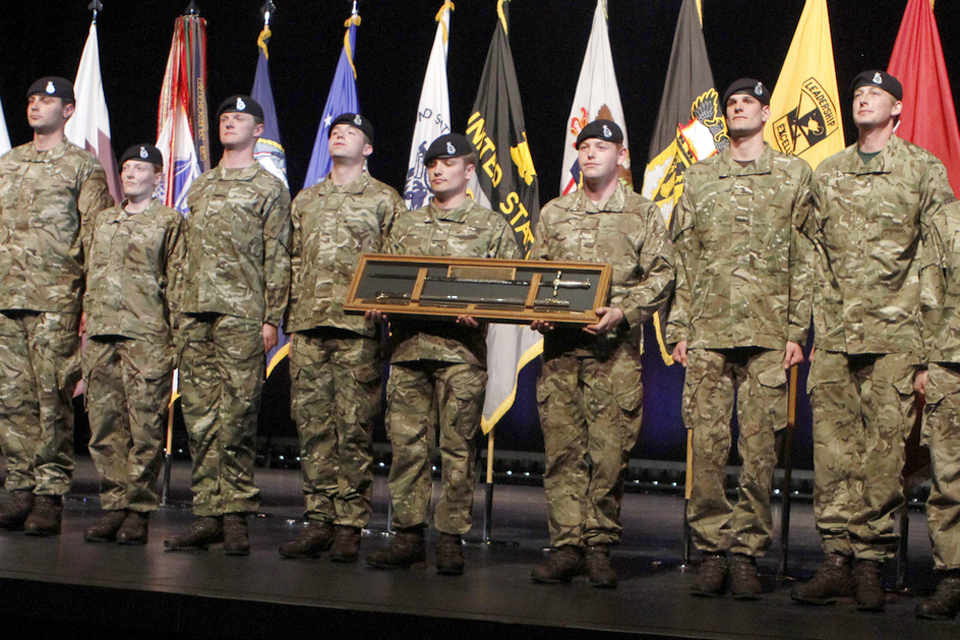 Now that we've won I can also say that, of course, Sandhurst is the best!
Major General Tim Evans, Commandant of the RMAS, said:
This is a great achievement for our officer cadets. It not only proves the quality of the training and preparation they undertook before the competition, but the fine young men and women that we attract into the British Army today.
The Sandhurst Cup is an opportunity for officer cadets to prove their military excellence and also to meet members of other militaries from around the globe. The West Point Military Academy organised an excellent competition and hosted all the teams superbly.
Volunteers went through a comprehensive selection and training process, and showed their dedication by training early mornings and weekends around the demands of their normal officer training course.
The teams will all now return to Sandhurst to finish their training. The Royal Military Academy Sandhurst in Surrey is where all officers in the British Army are trained. Regular Army officers complete a 44-week training course to commission into the Army.
Territorial Army officers and Professionally Qualified Officers also complete commissioning courses at Sandhurst.
Published 24 April 2013