Safety net of support working to protect thousands at risk
Housing Minister Grant Shapps today said new figures, showing a 14 per cent increase in the number of households accepted for homelessness help…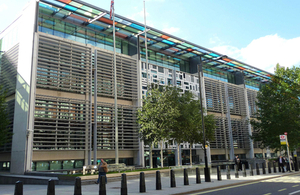 Housing Minister Grant Shapps today said new figures, showing a 14 per cent increase in the number of households accepted for homelessness help in England last year, underlined that many people were still suffering from the legacy of a debt-laden economy. He urged people to seek early help if they faced the prospect of losing their home.
However, the number of households being owed a statutory homelessness duty was still lower than for 28 of the last 30 years - and half the average level seen during the previous administration.
A strong safety net - bolstered by extra Government help and new freedoms for local councils - is ensuring thousands of vulnerable families have a secure roof over their heads, Mr Shapps said.
The Minister said the Government had made an extra £70 million available to councils in the past year to assist households facing the prospect of homelessness. In addition to the £400 million homelessness prevention funding allocated for the current Spending Review period, local authorities are benefiting from funding including:
£20 million Homelessness Transition Fund to help protect vital front line services
£20 million Preventing Repossessions Fund to enable local authorities intervene earlier and help people stay in their homes
£20 million Single Homelessness Prevention Fund to help ensure single homeless people get access to good housing advice
£5 million boost to the Homelessness Change Programme to deliver improved hostel provision and provide over 1,500 new and improved bed spaces.
Mr Shapps said those at risk of homelessness should therefore be confident that their local authorities would be able to provide the help they needed.
Councils have a duty to provide help for households facing homelessness through no fault of their own and in priority need, and can provide free advice and information to prevent homelessness in the first place.
Councils will have greater freedoms to support those in need of a stable home - under the Localism Act 2011, they will soon be able to fulfil their legal duty to vulnerable residents who fall homeless by finding them suitable accommodation in the private rented sector. Until now, those deemed eligible for help have been able to turn down such an offer and hold out for social housing - leaving councils to foot the bill for expensive temporary accommodation and other residents languishing on the waiting list.
Housing Minister Grant Shapps said:
Today's figures underline how the debt laden economy we inherited is leaving a legacy of hard-up households across the country. But despite this, homelessness remains lower than for 28 of the last 30 years - and is half the average rate seen under the previous Government.

Our strong safety net of support is keeping thousands of vulnerable people off the street, and I'm determined to take every opportunity to build on this. That's why on top of the extra funding, we will shortly be giving councils new powers to use suitable, quality homes in the private as well as social rented sector for those in the greatest need.

I would urge anyone in difficulty to seek early support. The clear message is, the earlier you act the more options are available to help you avoid homelessness.
Notes to editors
1. Details of today's figures can be found at: www.communities.gov.uk/publications/corporate/statistics/homelessnessq42011.
2. The average levels of homelessness acceptances have been calculated as an annual average of 97,500 from 1998 to 2009 for the previous administration, compared with 48,500 in 2011 for the current Government (source: Live table 770).
Twitter
Keep up to date with the Department by following us on Twitter (external link).
Media enquiries
Visit our newsroom contacts page for media enquiry contact details.
Published 8 March 2012