Safety net against homelessness continues to 2015
Support secured for those facing homelessness Funding to help those facing the real and frightening prospect of homelessness will continue …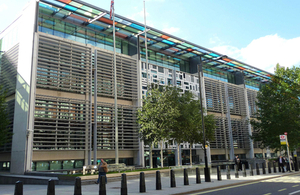 Support secured for those facing homelessness
Funding to help those facing the real and frightening prospect of homelessness will continue to the end of this Parliament, Housing Minister Grant Shapps said today.
A preview of the new StreetLink poster
Councils across the country are set to receive a share of £160million over the next two years.
The Minister also confirmed that a new website and telephone line, where anyone anywhere looking to get help for someone sleeping on the streets can go to, is on track to be available by Christmas.
He also offered a first-look at a new campaign aimed at encouraging people to seek help for rough sleepers in their area.
Funding support
Mr Shapps announced that councils across the country would receive £160million over the next two years in Homelessness Prevention Grants - offering certainty that homelessness services will be funded to the end of this Parliament.
This is on top of the £160million that has been allocated to councils over this and last year, which has been used to offer support to those facing the threat of homelessness, including:
providing rent deposit schemes to enable homeless people to get accommodation in the private rented sector
mediation services to help prevent relationship breakdown leading to homelessness
outreach services to help get rough sleepers off the streets and into accommodation.
Latest figures show that 199,000 households were last year given help to stay in their homes or find new places to live - stopping them from facing losing their home and, potentially, a life on the streets.
StreetLink support
Today, Mr Shapps also confirmed that plans for a new website and national phone line are on track to be available by Christmas, so that anyone will be able to ring if they are looking for help for someone sleeping rough.
StreetLink, to be run by charities Homeless Link and Broadway, will include a national telephone line, and website accessible via smart phone, so anyone anywhere can provide details of someone sleeping rough in their neighbourhood so they can be found and connected to local services.
A series of posters will be released in December alongside these new tools, so residents, charities and councils can all work together to ensure as few people as possible face spending this Christmas on the streets.
The Minister released the first images from a campaign due to start in the run-up to Christmas to encourage members of the public to come forward and seek help for local rough sleepers.
Grant Shapps said:
All too often, we see people sleeping rough on our streets and don't know what to do for the best, where to turn to get them help and whether offering a handout really does offer them help out of homelessness.

That's why I'm delighted that this December, StreetLink will offer a solution, with members of the public able to ring a national helpline or use a website accessible by smart phone to help ensure someone sleeping rough can be found and connected to local services.

And to ensure that we shore up the strongest safety net in the world, I can today confirm £160m funding right up to the end of this Parliament, giving councils the means to continue their strong work in preventing homelessness in the first place.
Notes to editors
A preview of what StreetLink, the new national rough sleeping campaign, will look like, can be found here: www.communities.gov.uk/documents/newsroom/pdf.2208862.pdf (PDF, 435kb).

Details of the £160m Homelessness Prevention Funding, which will be awarded to councils in 2013/14 and 2014/15, are published today and can be found here: www.communities.gov.uk/documents/newsroom/pdf/2208843.pdf (PDF, 89kb).
Published 2 September 2012